Lenovo IdeaPad Yoga 11S review
When Lenovo originally released the Yoga 11, the tiny laptop-cum-tablet was only available with Windows RT, the cut-down version of Windows 8, unlike the more flexible (in many ways) Lenovo Yoga 13 , which came with the full version of Windows 8. We find Windows 8 RT limiting, so we unsurprisingly jumped for joy when the Yoga 11S arrived at our office.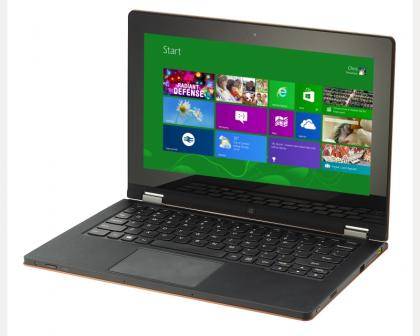 It runs the full 64-bit version of Windows 8 and packs the same 360 degree flexibility of the Yoga 13 into an 11in chassis, making it feel much more like a tablet when used in that mode. It's a much better size for holding in both hands, but its 1.4kg weight meant we still had to rest it on our lap or up against a table if we were using it for long periods of time.
From the outside, both laptops look more or less identical. Apart from being a fraction lighter, the Yoga 11S has the same rubbery finish as the Yoga 13 and stands just as tall at 17mm. This makes it feel deceptively chunky for an 11in laptop, but it has exactly the same number of ports as its big brother.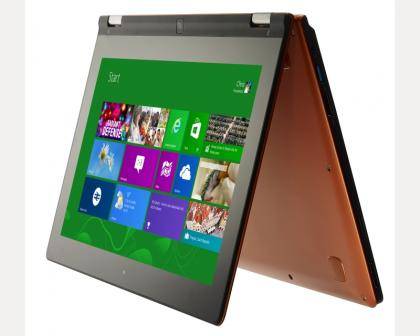 It has one USB3 and one USB2 port, an HDMI video output, an SD card reader and a combined 3.5mm headphone and microphone jack, as well as a screen-lock button that turns its auto-rotate feature on and off. The side panels of the Yoga 13 seemed spartan, but those of the Yoga 13 seem much more plentiful, even though it has the same complement of connections.
The two speakers at either side of its top panel provide sound. We recommend using a good pair of headphones, though, as the speakers sounded tinny overall and lacked a decent amount of bass.
The 11.6in touchscreen is a joy to behold. Its glossy finish is quite prone to picking up fingerprints, but colours looked great regardless. Reds, greens and blues were all very bright and vibrant, and whites were uniformly lit across the screen. The blacks displayed weren't quite as dark as its black bezel, but they were much deeper than other laptops we've seen. Its contrast levels were good, too, as we were able to see a high level of detail in both the light and dark areas of our test photos.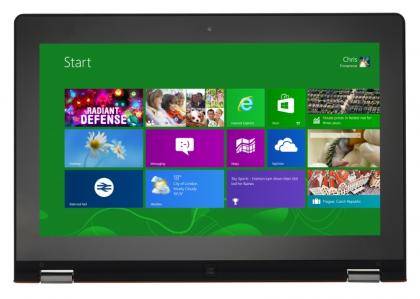 It's a shame it only has a standard 1,366x768 resolution instead of the higher 1,600x900 resolution of the Yoga 13, but the wide viewing angles on its IPS display were superb. We were able to see the screen clearly regardless of whether we were working with it as a laptop or had it lying on our desk as a tablet.
To use the Yoga 11S as a tablet you must fold the keyboard back over the screen so that the keyboard forms the underside of the tablet. As with the Yoga 13, the keyboard automatically disables itself when it's in tablet mode, so you don't have to worry about pressing the keys accidentally. Even so, the feel of the keys creates a rather odd sensation when you're used to the smooth back of the typical tablet. It's not particularly comfortable, but you get used to it over time.
When used as a regular laptop, the keyboard was great to type on, but we were disappointed to find a noticeable amount of flex in the keyboard tray. This was a problem we encountered with the Yoga 13, and isn't something we expect to find in a laptop at this price.
Thankfully, the flex didn't cause any problems while we were typing. Its bouncy Chiclet style keys are quite flat, but they give a lot of tactile feedback and we could type at full speed within a matter of minutes. The only problem we had was repeatedly hitting the Pg Up and Pg Down keys by accident while using the arrow keys, as they're all located in the bottom-right corner. This meant we often shot up and down the page as we tried to move the cursor through paragraphs of text, but otherwise all the keys were very well spaced and sensibly positioned.
The all-in-one touchpad was a little more temperamental. It was very responsive while we were navigating the desktop, but two finger scrolling was often a little too sensitive, and would scroll much further than intended. Pinch zooming worked fine, though, and we were able to zoom in and out of pages quickly and accurately.
PERFORMANCE
The Yoga 11S isn't just a smaller, more compact version of the Yoga 13, however. It uses a 1.5GHz Intel Core i7-3689Y processor, which is one of Intel's new ultra energy efficient processors. It has a base clock speed of 1.5GHz but can Turbo Boost to 2.6GHz as long as it isn't running too hot. It also has 8GB of RAM, which is plenty of memory for a desktop PC, never mind a laptop.
The Yoga 11S certainly has an impressive specification on paper, but it scored 41 overall in our multimedia benchmarks. This isn't a bad score, but Core i7-based laptops typically enjoy an overall score somewhere in the low 50s, especially those using the more ubiquitous Core i7-3537U.
In practice, this means it's not that much faster than a typical Core i5-based Ultrabook, but it's still quick enough for everyday tasks such as web browsing and word processing. It feels quick and responsive in use, and the high responsiveness of its excellent touchscreen reinforces this impression of speed. However, it may struggle when it comes to multitasking, as we rarely saw its clock speed go above 1.3GHz during this part of our test, even though the processor can theoretically Turbo Boost to 2.6GHz.
It's also not particularly well-suited to 3D games, as it doesn't have a dedicated graphics card. Unsurprisingly, it failed our Dirt Showdown test, but it should still be able to play older games as well as titles undemanding 2D Flash games from the Windows 8 Store.
The upside of having such a low voltage processor is a longer battery life. The Yoga 11S lasted 7 hours and 52 minutes in our light use test with the screen set to half brightness, so you should be able to get a full day's work out of it before returning it to the mains. This is excellent for a laptop of this size, and it even beats the Yoga 13's already impressive 7 hours and 32 minutes.
CONCLUSION
The Lenovo IdeaPad Yoga 11S has its flaws, but it's hard not to like such a convenient compact convertible. Our main concern, though, is the price. At £1,099, you're paying quite a hefty premium for that portability, as the equivalent Core i7 Yoga 13 is not only more powerful, it's also much cheaper. If you're looking for something more conventional then try the Best Buy-winning Samsung Series 7 Ultra , which is much better value.
| | |
| --- | --- |
| Processor | Intel Core i7-3689Y |
| | |
| --- | --- |
| Processor clock speed | 1.5GHz |
| | |
| --- | --- |
| Pointing device | touchpad and touchscreen |
| | |
| --- | --- |
| Native resolution | 1,366x768 |
| | |
| --- | --- |
| Graphics Processor | Intel HD Graphics 4000 |
| | |
| --- | --- |
| Graphics/video ports | HDMI |
| | |
| --- | --- |
| Total storage capacity | 256GB |
| | |
| --- | --- |
| Wireless networking support | 802.11b/g/n |
| | |
| --- | --- |
| Supported memory cards | SD |
| | |
| --- | --- |
| Other ports | headphone, microphone |
| | |
| --- | --- |
| Operating system | Windows 8 |
| | |
| --- | --- |
| Operating system restore option | restore partition |
| | |
| --- | --- |
| Supplier | http://www.lenovo.co.uk |
Basic Specifications
Display
Storage
Ports and Expansion
Miscellaneous
Buying Information