A miniature version of LG's cracking G2 smartphone has been conspicuous in its absence, considering virtually every major smartphone manufacturer has a Mini variant of its flagship model. LG has rectified that at this year's Mobile World Congress, introducing the G2 Mini a few days ahead of the show. We've finally had the chance to play with one, in order to bring you some first impressions.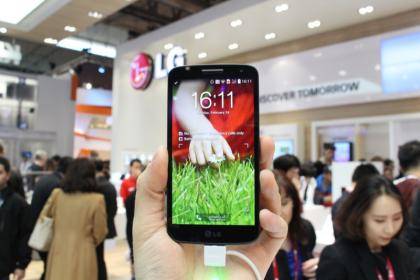 As you would expect given the name, the G2 Mini feels like a slightly smaller version of the G2. It retains the same plastic construction, although to LG's credit it doesn't feel cheap - in fact the textured rear finish and firm build quality are both hallmarks of a high quality handset. The power and volume keys have been moved from the side to the back of the phone, which makes the incredibly thin screen bezels a possibility. With the change in size, our fingers didn't naturally rest on the buttons as they did when gripping the G2, but smaller hands should find it very comfortable to hold. The camera sensor and LED flash sit directly above the rear buttons. It is capable of recording Full HD 1080p video, but lacks the optical image stabilisation of the G2.
LG has managed to squeeze a 4.7in display into a phone that feels much smaller; at 130x66mm it's almost exactly the same physical size as Motorola's Moto G . The screen itself is unfortunately a drop down from the G2 in terms of resolution, making do with a qHD 960x540 panel with a pixel density of 234ppi. It looked incredibly bright, even under the harsh show floor lighting here at MWC, and viewing angles were excellent. However, the low resolution is nowhere near as sharp as the G2's Full HD panel. Images and text still look reasonably sharp, but we are baffled as to why LG didn't at least opt for 720p.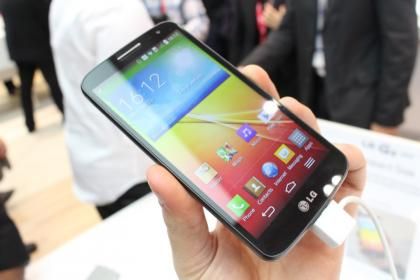 Unlike Sony' s fantastic Z1 Compact , The G2 Mini doesn't retain the high-end components of its bigger brother. The G2's Qualcomm Snapdragon 800 CPU has been replaced with either a Snapdragon 400 or nVidia Tegra 4i depending on where in the world you pick the handset up. That also affects what camera sensor is fitted to the rear; the Qualcomm model will have an 8-megapixel snapper, while the Nvidia-powered handset gets upgraded to 13-megapixels. It only has 1GB of RAM and 8GB of internal storage too, although you can add extra capacity later using the microSD card slot.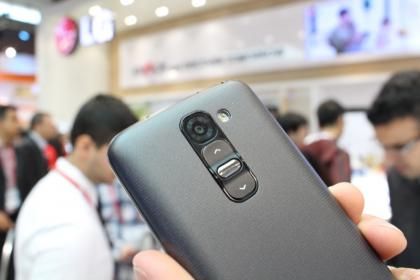 The G2 Mini will run Android 4.4 KitKat out of the box. LG has customised Google's operating system with its own colourful user interface, replacing almost all the icons, overhauling the lock screen, app drawer and Quick Settings Menu, and added a selection of its own apps. We aren't usually fans of custom UI on Android, but LG's is incredibly customisable, letting you hide apps from view, completely rearrange the dock (unlike Samsung's TouchWiz) and even flip the onscreen navigation buttons if you're coming from a different manufacturer's handset.
The biggest new addition to the Ui for 2014 is Knock Code. It's a new way to lock the handset using a set pattern of taps - you could tap once in each corner to instantly unlock the phone, without having to turn on the screen first. With 86,000+ possible unlock combinations, you'll be able to choose your own memorable pattern, and with no fingerprint swipe smudges left on screen it could be more secure than other lock methods.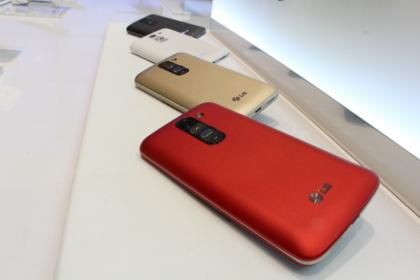 Based on what we've seen, the G2 Mini carries on the spirit of the G2 but otherwise takes a heavy hit to performance and screen resolution that could put off anyone in the market for a mid-range handset. With the Moto G shipping with a 720p panel, it could be tough sell for anyone that buys phones based on paper specifications alone. Perhaps it's telling that LG has yet to confirm a UK release date for the G2 Mini; it will be coming to Russia in March, followed by Europe, Asia, The Middle East, and Latin America later in the year. Initially available in either black or white, the range will later be expanded with champagne gold and metallic red colour choices.
With no official price yet either, we think LG will have to make it significantly cheaper than the G2 in order to keep it in consideration.