The Boys season 3 poster teases a powerful makeover for one key member
Update: the official trailer for The Boys season 3 has been released. Check it out in our news piece .
Original story follows.
A new poster for The Boys season 3 is teasing that another major storyline from the comics will appear in the satirical superhero show.
Released on various Prime Video social media channels on Thursday, March 10, the one sheet shows Karl Urban's Billy Butcher staring directly into the camera (and our souls by proxy). Ominously, though, Billy's eyes are glowing yellow – a sure fire sign that The Boys' leader is about to get Supe-d up on the hit Prime Video show .
Take a look at The Boys season 3 's latest promotional material below:
Unsurprisingly, The Boys' fanbase has been whipped up into a frenzy by the poster. Why? Because the only other individual with glowing eyes is Homelander, one of the Vought International-manufactured 'superheroes' (or Supes for short).
For those unaware: Vought creates its Supes by injecting test subjects with Compound V, a serum that grants superpowers to whoever comes into contact with it. As a child, Homelander was experimented on by Vought with Compound V – tests that gave him powers including Heat Vision, i the ability to shoot lazers from his eyes. Any time Homelander uses this superpower, his eyes glow red.
Which brings us back to Billy's glowing eyes. Okay, the poster could simple be a marketing misdirect on showrunner Eric Kripke's part. Billy and Homelander are two sides of the same violence-driven coin, after all, so this piece of promotional material could just be a way of signifying this.
In our minds (and in those of many fans of The Boys), though, the one sheet is heavily hinting at one thing only – The Boys, or Billy at least, are about to get their own superpowers.
Mild spoilers follow for The Boys' graphic novel series. Turn back now if you don't want anything ruined.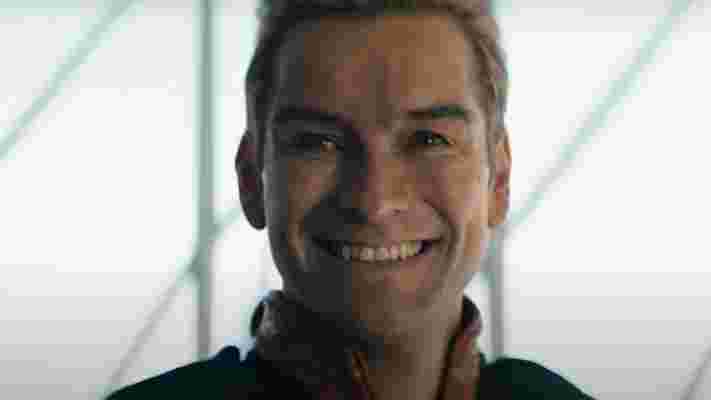 In Garth Ennis and Darick Robertson's graphic novel series, each member of The Boys gain superpowers whenever they take a single dose of Compound V. This was the gang's way of taking on Supes without, well, the prospect of being horrendously maimed or killed.
For Billy, a dose of Compound V would give him superhuman strength and durability. Sure, it's a far cry from the abilities that someone like Homelander possesses, but it gives him a fighting chance when doing battle with a Supe. Billy and his use of Compound V end up having a hugely significant impact on The Boys' universe in the comics, too. We'll refrain from spoiling those plot details here, though, as they're sure to be used in future seasons.
So what does The Boys season 3 poster tell us about the upcoming season, which lands on Prime Video this summer ? It looks like Billy, at the very least, will begin taking Compound V in his quest to rid the world of Supes. He could end up becoming a villain – just like his adversary in Homelander, hence his symbolic glowing eyes in the poster – in his own right. That would certainly come as a shock to Hughie and company (and fans of the show who haven't read the comics).
Billy and company's use of Compound V isn't confirmed – as we said, this new poster could be Prime Video's way of whipping up fan discussions about what it means for season 3. Thankfully, we don't have much longer to wait as The Boys' third season arrives in early June.
For more content concerning The Boys, check out our spoiler-free review of The Boys: Diabolical , an animated anthology spin-off Prime Video series that landed on March 4. And, while you're here, read our in-depth chat with showrunner Simon Racioppa about its development and ties to season 3.
How I solved Wordle #258 - spoilers for today's obvious-to-all-but-me answer
Welcome back to my weekday Wordle Answer Diary, where I take you step-by-step through my own Wordle puzzle efforts. In this entry, we're tackling today's Wordle #258.
For those unfamiliar with Wordle (in which case, kudos for getting here), The New York Times' (recently-purchased) daily word game asks you to guess a five-letter word in six tries. Simple right?
If you just want to skip to today's Wordle answer , (and yes, we have a page to do just that), you can depart right now. But what would be the fun in that?
If you want to preserve your streak and learn how to get better at Wordle, you'll need to make smart choices and understand the tactics that can take you from a "Winning in Five" to a "Solved in Three" kind of Wordle player.
The guide below includes how I make my guesses and images of my work. When I make a mistake, you'll see it. Maybe it'll help you avoid some of your own.
Let's Wordle together.
Spoiler Alert: If you do not want to know today's Wordle answer, STOP READING IMMEDIATELY.
Begin again
A reader asked me this week if I always start with the same word or do I "mix it up?" As evidenced by yesterday's dream-inspired opening , I mix it up any way I can. Inspiration can come from dreams, conversations, something I read, really anywhere where the lingua franca includes five-letter English words.
Getting "MOURN"  in four ( Wordle #257 ) felt splendid. I still yearn for the solved-in-three or genius-level "got-it-in-two," but I know I used best practices to whittle down my options to a sad-sounding answer.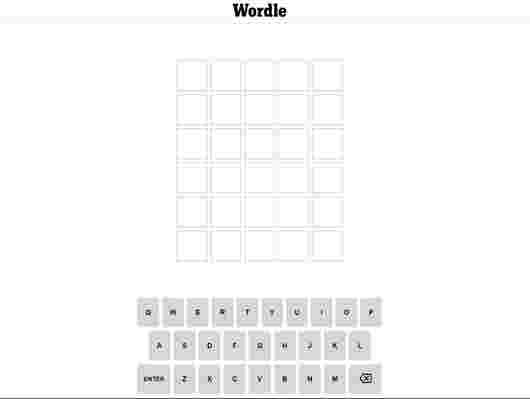 Seeing the words
Your biggest leap will always be that first word. I can choose any five-letter word but, generally, dismiss anything with double letters, as per our guide on how to win at Wordle .
There are two goals: Get as many correct letters in the right spots as possible and miraculously guess the word on the first try. Thus far, I've never accomplished the latter.
Getting ready for work, I start preparing to think of my first word when one pops into my head: ALIGN. It's not a special five-letter term, but has my favored balance of two vowels and three consonants.
I don't even hesitate, typing it in and hitting "Enter" in six, quick strokes.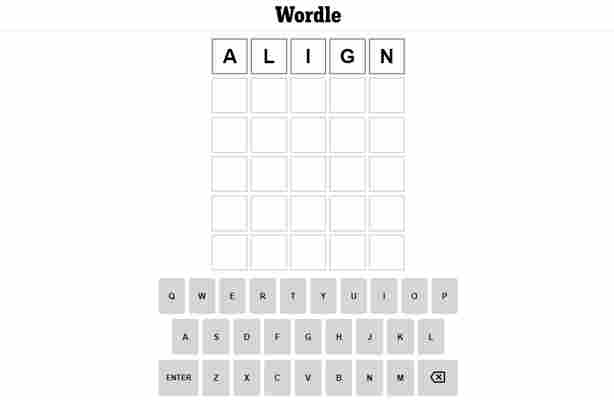 One at a time
It's a little early to start cursing in the morning, but what the heck? One letter? Fine, it's an "A" properly placed in position one, but one letter means it would be a miracle if I guessed the right word in this next round.
At this point, I'm so desperate for more letters that I will probably try a new set of five. Remember, if I were playing in Wordle's Hard Mode I would have to use the "A."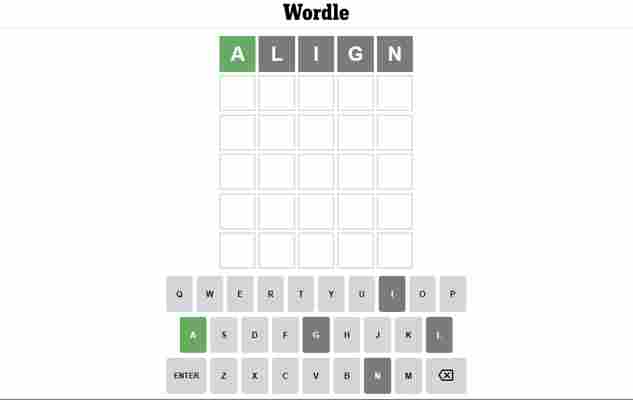 Making choices
I know, I planned on using all new letters, but I had a tiny inspiration and, even if I do reuse the "A," I get four new letter options, anyway. This way, if I happen to guess right with "ATOMS", I get Wordle in two! Listen, a Wordler can dream.
There is a risk, though, in using "ATOMS." I do not recall Wordle liking plural words, certainly not over singulars that do not rely on the "S" to make it to five letters.
I pause and rethink this strategy. "APPLE," I realize is another solid possibility. It even has that double letter Wordle so loves. So does "AWAKE," but it separates the "A's."
I also realize that Wordle might've used one of these words already, but if I search on Google for those answers, I might accidentally see today's Wordle answer. I just can't risk it.
It takes me a few beats to realize that "APPLE" is impossible. I already ruled out "L" as an included letter.
Time to commit to "ATOMS." I hit "Enter."
Smaller result than an Atom
Uh oh. That was bad. On the bright side, I've now ruled out eight letters, six consonants, and two vowels. I've made little progress on the board but do have more information to work with. Having the correct letter upfront is a big help.
A is still the key
It's pretty much a lock that the next letter after "A" is a consonant, and we have a lot of choices. "AWAKE" fits but I really worry it's been used in a previous Wordle game. If I'm wrong, it's not a great guess because I wasted a second "A" on a new letter space.
Having just two vowels left - "E" and "I" - limits my choices. There is the sometimes-vowel "Y" and that could sit neatly in the middle or end of this word.
Every once in a while, Wordle goes crazy with a double-double, meaning a word with two sets of double letters. I'm thinking of "ARRAY."
AWAKE or ARRAY, which way do I go?
In the end, I try ARRAY.
[Enter]
Middling result
Clearly, I have no idea what I'm doing. I've got two "A's" but only managed to eliminate "R" and "Y."
Slow it down
Rushing is not working. I've decided to take a quick break to think about what I have.
I highly recommend virtually Wordling in the shower. It's the perfect place to play out possible word combinations. On the other hand, I still have no idea what word to enter.
Clearly, I'm looking for a consonant right after that initial "A," but the combination of "PH" is not going to work. "APHA" goes nowhere.
"AQUA" combination seems promising, but there's no remaining letter that will make an English language word. Even "APEA" gets me nowhere without that "R" to place at the end.
I need more letters and realize it's time for a new word so I can collect more letters and eliminate some, as well. There is no way I'm getting this in less than five now.
I resort to making a word that has four new letters and one eliminated one. It also reflects how I feel.
Seriously?
Four guesses in and I have three letters ("A" counts twice). Can you spell "disaster?"
The word
Of course, the answer smacks me right between the eyes. I'm pretty sure there isn't another word that can accommodate "AH_A_" when you have only one other vowel left, "E," and ten consonants to choose from.
I move "AHEAD" with my guess.
Yes, right, "Great!" Maybe that should've been obvious to me sooner but sometimes you just can't see it.
Don't be like me. Get it in four, or three.
See you next week.
I just took a magic carpet ride in this car
"I can show you the world" Aladdin famously sang , n a magic carpet ride" and after my latest stint behind the wheel of a new car I'm very close to breaking out my Jasmine cosplay as I've now experienced the same sensation as the famous Disney princess.
I'm in Barcelona with Citroën to drive the French automaker's latest premium offering, the C5 X, which sits at the top of the firm's range of vehicles, above the C4 and C5 AirCross.
The Citroën C5 sits in an awkward middle territory a it's a cross between a station wagon and a SUV, but it's certainly not the only car of late to straddle categories, with plenty of other vehicles similarly stuck in an identity crisis - the Polestar 2 and Kia EV6 spring to mind.
Not that it's an issue, and the benefit is the Citroën CX 5 offers impressive internal space, not only for riders in the front, but also those in the rear seats, while also offering plenty of luggage space in the back.
The vehicle comes packed with Citroën's latest tech, including the feature which gave me my magic carpet ride.
A whole new world
Citroën has a rich history when it comes to a smooth, comfortable ride in its vehicles. Its famous hydropneumatic suspension dates back almost 70 years to 1954's Citroën Traction Avant.
In the decades since, Citroën has enhanced and engineered its suspension into increasingly sophisticated offerings, and the next generation makes its world debut on the new C5 X. It's a system the firm refers to as offering a flying carpet effect.
Known as Citroën Advanced Comfort Active Suspension it features exclusively in the plug-in hybrid (PHEV) model of the C5 X, with the standard petrol model making do with the previous generation technology, which misses the 'Active' part of the next system.
So what does the addition of 'Active' in its name actually mean? Well, Citroën says it "combines the Progressive Hydraulic Cushions with active suspension control. The highly responsive system individually adapts the suspension of each wheel, softening or firming, according to the driving conditions encountered."
The C5 X is equipped with a series of sensors which scan the road ahead and adapt the suspension accordingly, ensuring those inside the cabin feel very little of imperfections in the road tarmac.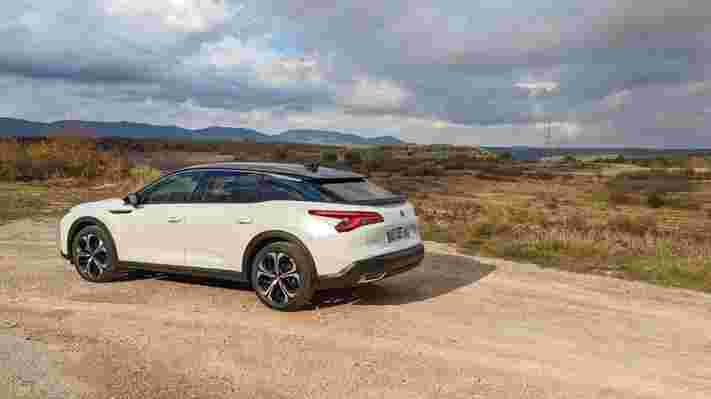 And it certainly does a good job. I drove the fully electric Citroën eC4 last year, which itself delivers a pretty smooth ride, but there is a marked step up when driving the C5 X.
The C5 X doesn't drive, it glides. As I wafted through central Barcelona, the smooth ride was clear. Road imperfections we gobbled up into nothing more than a very slight, and incredibly smooth bounce.
As we got out of the city and up into more mountainous, twisting roads, the suspension continued to impress on rougher tarmac.
Add some impressive sound insulation, which keeps road noise to a minimum plus the times where the C5X plug-in drives in fully electric mode, and I found myself in a serene space which, yes, is similar to what I imagine a magic carpet ride to be.
The ride feels premium and the only car I've driven which can actually claim to provide a better ride experience is the Rolls-Royce Ghost - which costs ten times what the Citroën C5 X does.
Rags or riches?
So the Citroën C5 X has a premium ride, no doubt. There's also plenty of space for people and luggage, and a new touch screen infotainment system which brings more features and an easier to use interface to the large main display in the C5 X.
And while this is Citroën's most premium vehicle, surely it stacks up against other top-of-the-range cars from other brands, right? Well, not quite.
There's plenty going for the C5 X, but from my time with the car so far (I've driven it for just over two hours at time of writing) one thing that stood out to me almost immediately was the interior.
Citroen claims it provides a lounge interior in the C5 X, and while the seats are admittedly comfortable and the head room generous, it's hard to ignore the swaths of plastic that surround you. Now, that in itself isn't an immediate red flag, plenty of vehicles rely heavily on plastic-like materials, but in the C5 X there are a few things that feel cheap.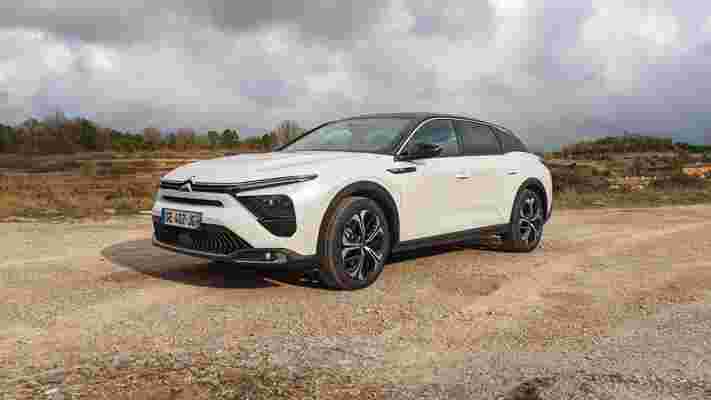 The plastic cover you can pull over the wireless phone charger and key cubby feels particularly lightweight, while a number of the switches and buttons on the steering wheel and surrounding the driver's position also don't have the same quality aesthetic to them as you'd find in, say ,an Audi or Mercedes.
In the C5 X's defense, while it is Citroën's most premium vehicle, its price tag is significantly less than the German rivals I've name-checked above.
The plug-in hybrid Citroën C5 X price starts at £35,180 (around $46,000 / AU$62,000) for the entry level 'Sense Plus' model and maxes out at £38,670 (around $50,000 / AU$68,000) for the top of the line 'Shine Plus' - so some compromises would have had to have been made along the way.
And that's alright, because I can't wait to get back on my magic carpet.