Don't buy Elden Ring on Xbox One
Xbox One users may want to think twice before buying Elden Ring on their aging console, as it's by far the worst version of the game.
Digital Foundry recently analyzed Elden Ring running on all four versions of last-gen hardware - Xbox One (or Xbox One S ), Xbox One X , PS4 , and PS4 Pro - and the verdict is that the base Xbox One is "the worst of the four" to play FromSoftware's open world opus on, with issues compromising both visuals and performance.
This won't have come as much as a surprise for the select Xbox One users who were able to sample the game earlier during last year's Closed Network Test, as performance remains largely the same.
When compared side by side with the Xbox One X and Xbox Series X running the game in Quality Mode, the differences between visual quality and overall detail is stark. The Xbox One is like a PC on the lowest settings, paring back environmental shadows, grass density, and ambient occlusion. A lot of this is noticeable very early on in the game's starting area Limgrave, which is supposed to be covered in grass, but ends up feeling barren on Xbox One.
Tarnished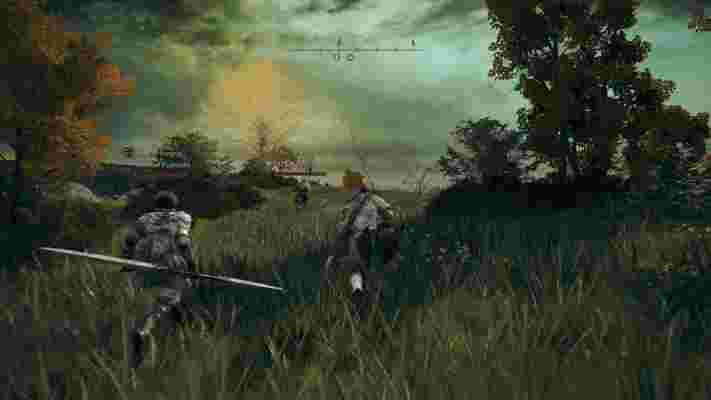 It gets worse, however. The video shows a later section where you're confronting a horde of skeleton enemies, which due to limited shading and low-grade shadows, makes the game look like a scene from  Jason and the Argonauts.
In terms of resolution, Xbox One typically renders the game at 900p, compared to the dynamic 1800p on Xbox One X, while the base PS4 can at least output at full HD 1080p resolution. The Xbox One version also targets 30fps, but Digital Foundry's analysis shows that it rarely manages to hit that target, often dipping into the low and mid-twenties when you go from small dungeons into the open world.
In-game animations are also heavily compromised in the Xbox One version of Elden Ring. Enemies viewed from a distance are animated at an extremely low frame rate. While this is not unheard of in other games, the low frame rate animations in Elden Ring on Xbox One take it to an extreme we haven't seen before, and it's horribly jarring, to say the least.
The only test where the base Xbox One doesn't completely lag behind is in loading times, where it narrowly beats PS4 when loading back to a nearby site of grace. That's still a loading time of around 29 seconds, though, far from ideal in a game where death comes easily. We should point out that Xbox One does once again come last when testing fast-travel loading times, although only marginally worse than the PS4 Pro and Xbox One X.
Considering all the rave reviews that proclaim Elden Ring is a masterpiece (including our own Elden Ring review ), it's certainly not a game you want to be spoiled by underperforming hardware. While you shouldn't expect something broken like Cyberpunk 2077 , Xbox One owners who want the best first-time experience in the Lands Between should wait until they can upgrade to Xbox Series X/S or play the game on a different platform.
Microsoft Edge remains in second place - but it's still miles behind Chrome
For the second month in a row, Microsoft Edge has gained market share over Apple's Safari, consolidating its position as the second most popular web browser, but it is still a distant runner-up behind Google Chrome.
The new data comes courtesy of StatCounter , which tracks the market share for web browsers (among other things). In their latest report covering April, Edge ticked up from 9.65% in March to 10.07% in April, while Safari – which dropped from second to third place in March – ticked up slightly as well, from 9.56% to 9.62%.
The biggest loser is still Mozilla Firefox, which dropped from 9.47% in February to 7.57% in March, with a slight tick back up to 7.87% in April. The behemoth running roughshod over all of these, of course, is Google Chrome, which saw a solid bump from 64.91% in February to 67.29% in March, almost entirely at the expense of Firefox, before ticking down slightly in April to 66.58%.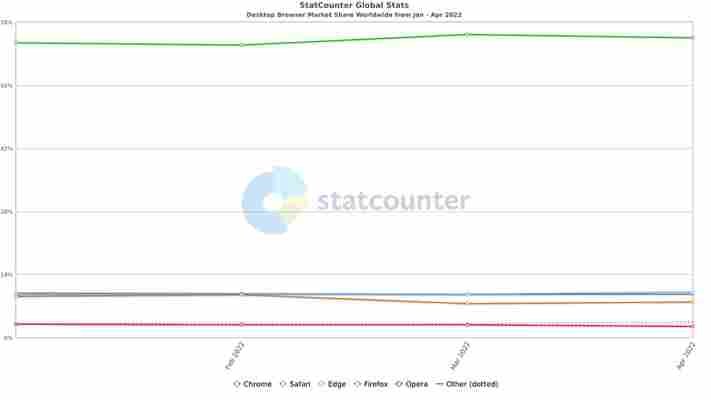 Microsoft's Edge browser has made major strides in recent years to build its user base, especially after Microsoft rebuilt Edge around the Chromium framework, the same web engine that provides the foundation for Google Chrome.
This allows for a lot of the best features of Google Chrome, like extensions, to also run in Microsoft Edge, while the browser enjoys a level of system integration that Google Chrome can only envy.
There is no question that this integration into Windows 11 definitely helps prompt user adoption. Changing your default browser isn't hard, but it's also something you have to actively do, and since Windows 11 comes with Edge already set as the default browser, users, are just as likely to simply let it ride.
The adoption rate for Windows 11 has been slow, but it has been increasing. As Windows 11 adoption steadily grows, there is likely to be a baseline growth for Edge going forward, regardless of anything Microsoft does to promote it.
TechRadar has reached out to both Google and Microsoft for comment and will update this story if and when we hear back.
Fighting over Google's cookie crumbs
While the gains made by Edge are very real, these two browsers are still getting lapped several times over by Google Chrome. In many ways, the web browser market really is Google's to lose. It has a commanding lead now , but so did Intel after it introduced its Core series processors. AMD had no answer to Intel Core processors, and so saw its steadily growing market share suddenly crater to roughly 15%, down from a high in the low-to-mid 30s.
In 2017 though, AMD bounced back with its new Ryzen processors, and things began to turn around very quickly. Now, AMD is going toe-to-toe with Intel in market share and has achieved some degree of parity in the desktop processor market.
There's no reason why the same thing can't happen to Google Chrome. Edge has a few notable advantages over Chrome, namely that its memory management is simply better. We all know the consequence of opening up too many Chrome tabs. Edge simply doesn't have nearly as much of a problem in this regard (opening 200+ Edge tabs is going to tank your performance, too, obviously).
Edge's growth disappears when it comes to mobile browsers, however, and it doesn't even have enough market share on mobile to break out of the Other category on StatCounter. Here, too, Chrome dominates the market with about 63% of the global market, with Safari taking up another 25% (Safari is the default browser on iPhones). Chrome and Safari are much closer to one another on tablet market share, 47% to 38%, respectively, with Edge accounting for just 0.27%.
Even as the Redmond giant continues its push to compete with Google in the browser wars, and makes incremental gains, it's got a long slog ahead of it.
Want to upgrade your home theater? These Dolby Atmos speakers could be the answer
Soundbars are a great way to introduce Dolby Atmos audio to your home theater setup – but Klipsch may have an even better solution with its updated Reference speakers.
The new lineup includes floorstanders, subwoofers, and bookshelf stereo speakers . But what we're most interested in is the R-40SA add-ons, which can bring Dolby Atmos sound to your existing speakers.
That's right – no need to invest in an entirely new system if you want to bring immersive sound to your setup. The £399 (about $520 / AU$700) add-on Dolby Atmos speakers can be placed on top of your existing speakers with the ability to be used as front, rear, or side elevation channels.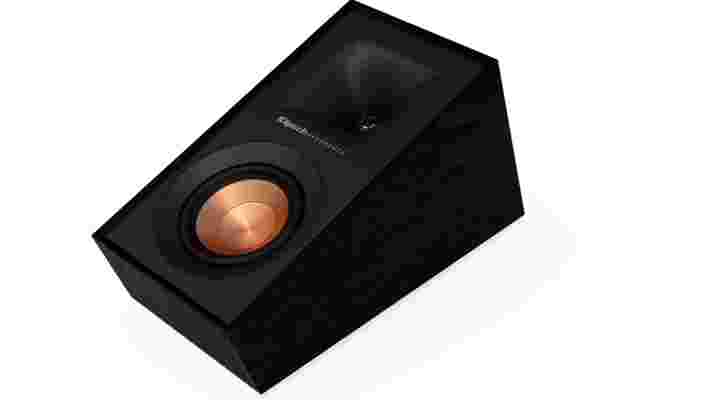 In other words, the R-40SA add in the vertical height needed for Dolby Atmos, bouncing sound off your ceiling and back down to your ears. This results in a super immersive listening experience, especially if you're watching films or playing games.
If you don't already have speakers to add to, the R-40SA can be used on their own as side or rear surround channels.
A great soundbar alternative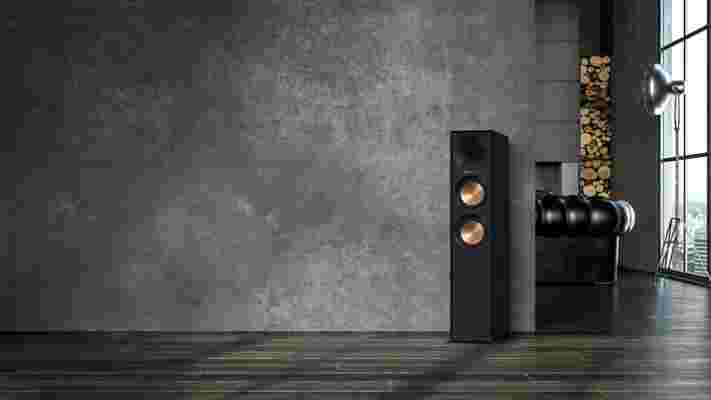 According to Klipsch, all the speakers in the new range come with the company's distinctive horn-loaded sound, with lots of care taken to ensure a clean, natural audio performance.
Each speaker contains aluminum tweeters for "enhanced, detailed performance", while spun-copper woofers have been selected for a "smooth response, accuracy, and transparency".
If you want to buy a big pair of floorstanders that already come with Dolby Atmos upfiring drivers built-in, the R-605FA are worth looking at. However, at £1,499 (about $1,960 / AU$2,600), they're a pricey investment, and the most expensive of the new Klipsch speakers.
Still, most soundbars can't beat the the stereo imaging and wide soundstage you get from a pair of big stereo speakers, so if you're looking for the ultimate home theater setup , the new Klipsch Reference range is definitely worth considering.