Memory foam vs hybrid mattresses: which is the best type for you?
Memory foam or hybrid is one of the biggest decisions you'll need to make when choosing the best mattress for your sleep. These are hands-down the two most popular types of mattress, and while both have big benefits for your sleep comfort, there are some key differences that will help you pick between them.
In our memory foam vs hybrid mattress head-to-head, we look at each type in terms of comfort, support, motion isolation and pressure relief. We'll also introduce you to some key brands, and run through the sorts of prices you can expect to pay for memory foam and hybrid beds.
We'll also discover the pros and cons of each, comparing how the contouring multi-foam layers of a memory foam bed might suit one sleeper over another, and why the spring-and-foam construction of a hybrid is better for hot sleepers and couples.
Memory foam mattresses are generally more affordable compared to hybrids, but the biggest selling point is that they create a comfy, body hug feel where you slightly sink into the foam. Not only does this cradle your body so you're more relaxed falling asleep, it cushions your joints and relieves pressure on your main impact points such as your hips and back.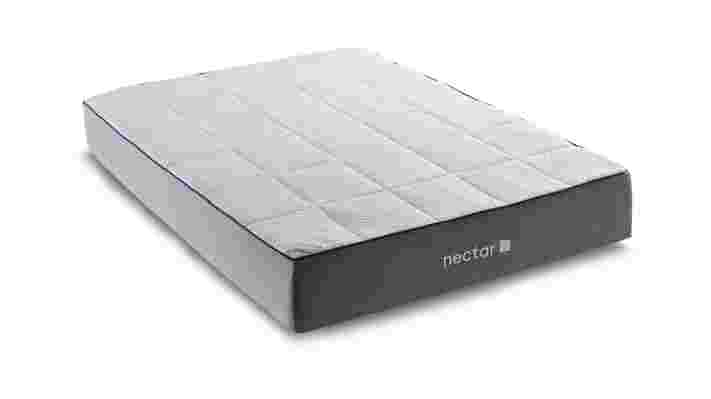 All-foam beds are constructed in layers using different densities of foam and memory foam, with a firmer density at the base acting as the foundation and a softer layer at the top for instant cushioning. Some basic types of foam tend to sleep warmer than hybrids, although plenty have features such as cooling gel or graphite to keep the sleeper comfortable.
Hybrid mattresses typically combine memory foam coupled with a pocketed coil layer (or two) to offer more bounce and support. Because of the construction hybrids tend to be heavier and more expensive, but they are often more durable than all-foam models.
If you like the feeling of sleeping on top of your mattress rather than sinking into it, then you'll likely prefer a hybrid. Larger body frames may also prefer the support on offer with a hybrid, although many also come with a softer top layer to give you an instant hit of snugness.
One of the biggest differences between memory foam and hybrids is the feel, with sleepers enjoying the feel of slightly sinking into memory foam but resting on top of a hybrid. It all depends on personal preference too, because while hybrids are more responsive, memory foam beds offer excellent motion isolation and pressure relief.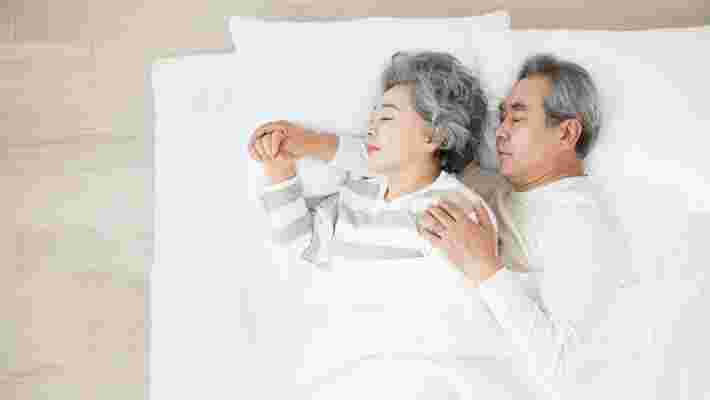 Another key difference is in the design, with memory foam mattresses being constructed entirely of foam layers plus a fabric cover, while hybrids combine layers of foam (or other similar materials), with a layer or two of springs for enhanced breathability and back support.
If you are looking for an affordable option, then you will most likely find lower prices with memory foam beds, while hybrid mattresses are more expensive owing to the more complicated construction, the variety of materials used and the durable build.
As mentioned, memory foam mattresses generally tend to be cheaper than hybrids, and you can often find them priced from around $300-$500 for the more affordable to mid-range brands. Hybrids nearly always start at a couple of hundred dollars more, with the average price starting from around $700. Why the higher cost? Because hybrids use foam and either coils or springs, so the addition of extra materials gets passed on in terms of the cost to you.
It's helpful if we look at the prices for popular memory foam and hybrid mattresses from leading sleep specialists. This will give you an idea of how much you can expect to pay, discounting any sales you may come across from the brand you are interested in.
Saatva is arguably one of the most well-known online mattress manufacturers in America, and its best-selling Classic innerspring hybrid starts from $887. As we explain in our Saatva Classic mattress review , this is a fantastic price for a handcrafted luxury hybrid. You can usually save anywhere from $200-$250 on the Classic in the Saatva mattress sale .
Nectar is another well-known brand in the UK and the US, and its highly rated Nectar Memory Foam starts from just $499 in the Nectar mattress sale . That's a fantastic price for a well made mid-range bed-in-a-box, and it comes with free bedding too. Let's look at some prices for other sought-after memory foam and hybrid models…
Both memory foam and hybrid mattresses come with a sleep trial. These range from 60 to 365 nights, with the average being 100 nights. We strongly recommend only buying from a brand that offers a risk-free trial, as these testing periods enable you to get a good feel for the bed to make sure it keeps you feeling comfortable and supported night after night.
Most trials are risk-free, so if you decide it's not for you within the trial length, then you can send the mattress back and get a refund. Returns aren't always free – Saatva, for example, charges a $99 processing fee – though we are seeing more brands offering free returns as a way to be more competitive.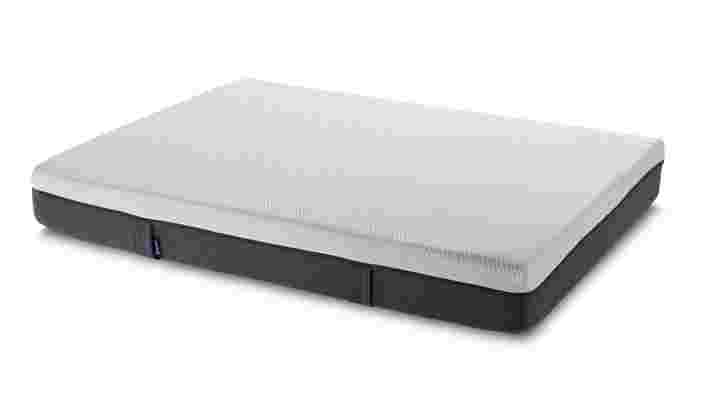 Memory foam pros:
When it comes to cushioning pressure points such as the hips, shoulders and knees, memory foam is a superb option. This makes it particularly great for side sleepers who want to keep their spine aligned while reducing pain on their hips, shoulders and knees.
Memory foam mattresses are also good for co-sleepers, as there's minimal motion transfer. That means you won't disturb each other so much when changing sleep position or getting in and out of bed. They're silent too, with none of the squeaks and creaks that can happen with a spring model.
Finally, choosing a memory foam option is usually the cheaper option (though there are definitely premium versions around). So if you're on a tighter budget, you will generally find the biggest bargains here.
Memory foam cons:
The cheapness of memory foam also links to its longevity, and, generally speaking, the lifespan of an all-foam mattress is shorter than a hybrid as it's more prone to dips and sags (learn more in our feature on how to fix a sagging mattress ).
Speaking of which, if you don't like the feeling of sinking into a mattress then memory foam is not the right fit for you. This sinking-in can also make it harder to switch position and get out of bed, and it can contribute to overheating during the night as some types of foam retain heat more.
So if you tend to sleep hot you might want to either choose a bed with extra cooling features, such as gel- or graphite-infused foam, or opt for a more breathable hybrid.
Hybrid mattress pros:
Hot sleepers can usually rest easy on hybrids as they offer a more breathable surface to rest upon without the body sinking in. The springs also make for a cooler bed because air flows right through the bed to keep you at a comfortable temperature throughout the night.
The more supportive feel of a hybrid also makes it a better choice for heavier weight sleepers, as well as people who sleep on their stomach or back. Furthermore, the hybrid construction with sturdy coils makes the bed itself more durable and long-lasting. So if you're looking for a mattress that will last you for several years to come, then a hybrid could be better value in the long run.
Hybrid mattress cons:
As hybrids tend to be more expensive, they might not be suitable if you are on a small budget or need an affordable mattress for a guest room. Also, because of their construction and durability hybrids tend to be heavier and a bit more cumbersome to maneuver, making them more difficult to clean (read our feature on how to clean a mattress for guidance).
Finally, if you want a softer bed or one with minimal motion transfer and less bounce, then don't pick a hybrid. How come? From our experience testing different models, there is a certain amount of movement with hybrids – much more so than with all-foam models.
Most sleep brands sell both all-foam and hybrids, so there's plenty of choice these days. Eco-conscious shoppers will love the hybrid and memory foam selections at Saatva, with the memory foam Loom & Leaf starting from $1,049 . Avocado Green is another great organic sleep brand, making natural latex and vegan hybrids priced from $1,099 at Avocado .
Other top brands for hybrids include DreamCloud with its flagship model starting at $899 at DreamCloud , and WinkBed with its flagship model – a favorite among luxury hotels, no less – priced from $1,149 . We also rate the Helix Midnight, from $599, a reliable and pressure relieving hybrid for side sleepers.
If you're looking for the ultimate memory foam bed for deep pressure relief, then look no further than Tempur-Pedic. The company uses its own Tempur material based on the original memory foam developed by NASA. Tempur-Pedic also has hybrid variations, with prices from $1,699 for the Tempur-Cloud, it's cheapest foam and hybrid model.
If you're a side sleeper looking for cushioning comfort and a slightly softer feel, then the best mattress choice for you is memory foam. The same goes if you sleep with a partner who tosses and turns, as the motion isolation with memory foam is superior to what you will get on an innerspring or hybrid.
If you need extra support then a hybrid will offer you the best of both worlds: coziness and stability. These beds also tend to be more durable, so you could find it lasts longer (we cover this more in our feature answering how long does a mattress last ). If you sleep hot, then a hybrid is a better fit as they sleep cooler, with the layer of coils providing plenty of space for air to circulate and keep you at a comfortable temperature for sleeping.
All leading brands offer mattress trials, so if you're still unsure what to pick, then try one out risk-free to see for yourself which type is right for you when it comes to memory foam vs hybrid mattresses.
If you think your current mattress has a little more life left in it, yet it could do with a boost of either softness, firmness or cooling, consider investing in one of the best mattress toppers for your budget. We'd also recommend using a good quality mattress protector to keep your bed safe from stains, spills and bacteria.
Read more:
New Garmin Forerunner 955 could arrive on your wrist next month
New rumors suggest that the forthcoming Garmin Forerunner 955 , the company's next top-end triathlon watch, will launch on June 1.
The news comes courtesy of a Reddit user who claims to have been visiting a running store in Germany when he saw an email Garmin had sent to retailers. As Gadgets and Wearables reports, the poster claims that the Forerunner 955 is due to launch alongside the new Forerunner 255 running watch .
Among the new features said to be coming to the Forerunner 955 is a Morning Report. This was introduced last year with the launch of the Garmin Lily , and also appeared on the slimline Garmin Vivosmart 5 , but it looks like it'll soon be coming to the company's top-tier watches as well.
The Morning Report is available to view first thing when you wake, and includes a daily greeting, brief weather report, your current Body Battery score, your current step goal, calendar, and women's health tracking (if enabled).
Is it enough?
We've previously speculated that Garmin might choose to drop the Forerunner 250 range , as last year's Forerunner 55 is such a capable watch for new and intermediate runners. We're therefore curious to see what new tools Garmin could throw into the mix to make the 255 a more tempting proposition.
One new feature that appears to be coming to the 255 is the ability to store music for occasions when you want to work out without your phone, but it looks like this will be an optional extra rather than something that's included as standard.
According to the leak, the base model Forerunner 255 will cost around €350 (about $370 / £300 / AU$520), while the music edition will be about €450 (roughly $480 / £380 / AU$670). That's a big price jump from the Forerunner 55, which cost $199.99 / £179.99 / AU$329 at launch, and is now available for even less via third-party retailers.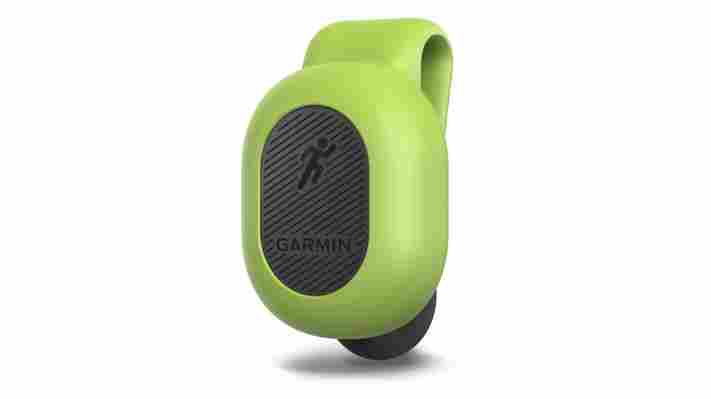 The Reddit user claims that both the Forerunner 255 and 955 will have the same stamina meter as the Garmin Fenix 7 and Epix (Gen 2) , which updates in real time to let you know how much energy you have remaining during a run. They will also reportedly have a running power metric, which will require an additional piece of equipment.
It sounds like this might be similar to the Running Power app Garmin published on the Connect Plus store back in 2017, which requires one of the company's chest strap heart rate monitors, or its Running Dynamics Pod.
Although useful, those two features don't sound like enough to justify the additional cost of the Forerunner 255 – especially since Running Power is available to download free. We're hoping Garmin has some extra tricks up its sleeve that will make the 255 a more tempting prospect for experienced, demanding runners.
Inside The Boys: Diabolical, the risky animated cousin to Prime Video's hit show
It's proving to be a long wait for The Boys season 3 – and the show's chief creative team knows it. By the time the Prime Video series returns in June 2022, it'll be nearly two years since its season 2 finale aired. Fans recognize the ongoing pandemic's role in the third season's delayed release, but many are champing at the bit for its return.
How, then, do you placate a fanbase desperate to be reunited with Billy, Hughie, Homelander and company? You create an animated anthology series, based in The Boys' universe, that's packed with the franchise's unique blend of humor, heart, and hyperviolence. And, to tie it to the live-action show and graphic novel series, you give it a distinctly identifiable title: The Boys Presents: Diabolical .
"We wanted to create a spin-off series for the fans before season 3 came out," showrunner Simon Racioppa tells TechRadar. "There was a long wait between seasons 2 and 3, but we didn't want to make something viewed as a quick bit of TV. We wanted to make something worthwhile."
Ahead of Diabolical's March 4 release on Prime Video , TechRadar sat down with Racioppa to find out more about its development. We discover the inspiration behind its original tales, why certain animation styles were paired with specific stories, and whether Diabolical's characters or narratives will carry over into the live-action show.
Crafting a Supe-d up show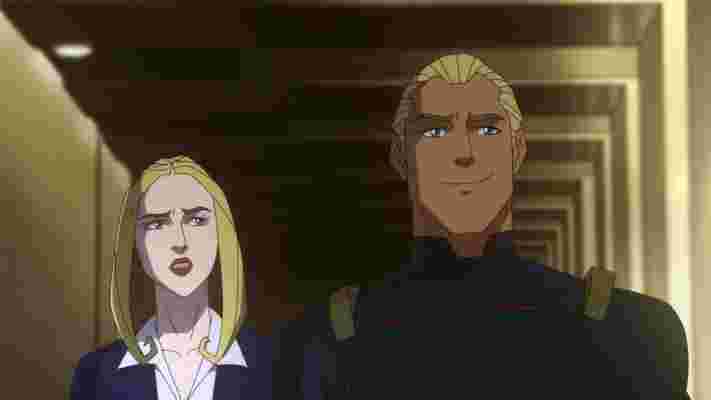 Set largely in the present, Diabolical comprises eight standalone tales that expand The Boys' universe beyond the franchise's primary cast and plot. Each story follows a certain number of individuals – Supes or everyday citizens – whose lives are directly impacted by Compound V, the Vought Industries-developed serum that grants superpowers to whoever uses it.
Interesting as it may be to flesh out The Boys' universe, an animated anthology series does pose some risks. The live-action show's popularity is largely dictated by its compelling narrative and talented cast members, who truly embody the primary characters that they portray. Diverging from that successful formula, then, may not pay off.
For Racioppa, though, the decision to produce Diabolical as an animated anthology series was three-fold: one, the difficulties associated with live-action projects during a pandemic. Two, a desire to honor TV anthologies the show's main crew adore. And, finally, to work with other well-known writers and artists to bring some originality to the franchise.
"We had to make it during a pandemic and on a very tight schedule," Racioppa says. "When Eric Kripke [The Boys showrunner], and Seth Rogen and Evan Goldberg [The Boys executive producers] talked to me, doing it animated seemed the best possible way forward because we could do it remotely. We also really like old anthology animated series. Heavy Metal, The Animatrix, and even Love, Death and Robots , which is more recent. We wanted to go out to other creatives whose work we admired, and who we knew were fans of the show, to see what stories they could tell in this universe."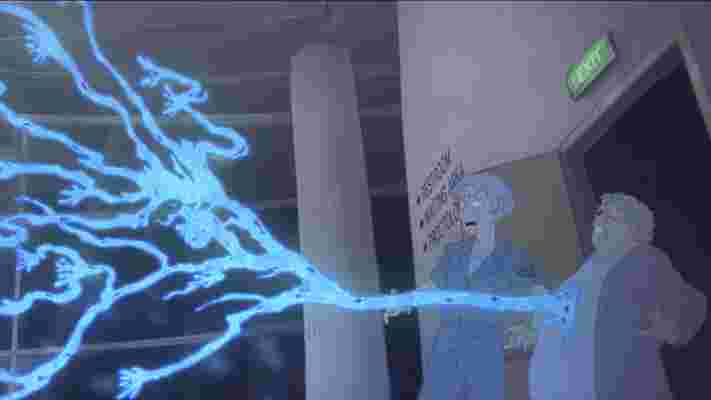 Racioppa and company haven't held back in bringing a whole host of talented individuals to the table, either. Rick and Morty co-creator Justin Roiland, Brooklyn Nine-Nine 's Andy Samberg, Shang-Chi 's Awkwafina, and Garth Ennis – The Boys' comic series co-creator – are some of those who created original stories for the series. Meanwhile, Marvel movie star Don Cheadle, Stranger Things ' Caleb McLaughlin, and The Boys' Anthony Starr, Dominique McElligott, Chase Crawford, and Giancarlo Esposito are among its all-star voice cast.
With so many people involved, there was every possibility that Diabolical would wildly diverge from its intended path – "It's a showrunner's job to keep everybody in line with the vision for the show," Racioppa explains. Nevertheless, Racioppa wanted each storyteller to be heavily involved in their episode, from conception right through to the final product.
"In every single case, the writer came up with the idea," he reveals. "Once we knew they were interested, we said 'Great, come back to us in two to three weeks, we'll set up a Zoom call, and tell us your thoughts'. When we spoke again, we workshopped their ideas with Eric, Seth, and Evan. The writer would go away and pen a script and we'd do the same thing again a few weeks later. Then, we kept them involved throughout production, so they saw early designs, who we wanted to cast, early cuts of the episode, had input on the music, and everything else."
Marrying story with style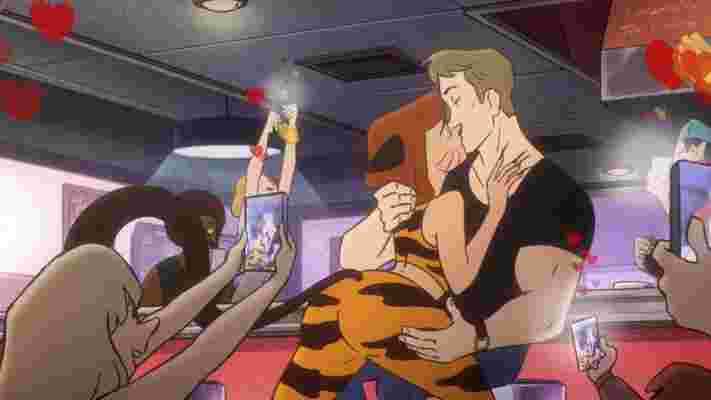 Diabolical's octet of tales may have taken some time to formulate, but other challenges lay ahead. Namely, pairing each story up with the right animation style.
For some episodes, the process was seamless. The 2D vector-based aesthetic for An Animated Short Where P****d-Off Supes Kill Their Parents, the entry co-developed by Roiland, will be instantly recognizable to Rick and Morty fans. The Awkwafina-led BFFs is heavily influenced by traditional Saturday morning anime cartoons. Samberg's John and Sun-Hee – "Andy really wanted to explore the idea of loss and saying goodbye to your loved ones," Racioppa reveals – is rooted in Korean horror-drama animated shows. Meanwhile, Laser Baby's Day Out, co-created by Rogen and Goldberg, was always intended to celebrate the golden age of American animation, which took off in the 1930s.
"From the initial concept for Laser Baby's Day Out, we knew we wanted to do a Looney Tunes-cum-Roger Rabbit style," Racioppa explains. "So we found great Looney Tunes directors, composers who had soundtrack experience, and other designers to create a team to execute that as well as we could."
There were some entries, though, whose animation techniques and visuals took a lot longer to settle on. Boyd in 3D, the episode conceived by Eliot and Ilana Glazer, required plenty of back and forth between collaborators before its eventual aesthetic was hit upon.
"That one took a bit of work through the script and talking with the Glazers," Racioppa admits. "It felt like more of a storybook-style episode, so we went to French graphic novels for inspiration. That led us down the rabbit hole of French shorts and other illustrations, which guided us towards [2003 French animated comedy] The Triplets of Belleville and director Sylvain Chomet's other works. That brought us to French animation studio Folivari, so we talked to them about it, they were keen, so we thought 'yes, this style makes sense.'"
Back to The Boys
Wonderfully inventive as its stories are, Diabolical could arguably be viewed as just another animated anthology series.
That is, if not for The Boys' DNA running through its artistic veins. The show is packed with Easter eggs and other references to its live-action and graphic novel cousins – not least in I'm Your Pusher, the Ennis-developed episode that uses The Boys co-creator Darick Robertson's signature art style. One Plus One Equals Two, the Homelander-centric tale penned by Racioppa, digs deeper into the backstory of the franchise's fan favorite villain, too.
How could Diabolical directly impact its older sibling, though? Could we potentially see elements from the animated series bleed over into The Boys season 3 and beyond? Racioppa believes it's possible, but some aspects will work better than others.
"Some episodes feel like they could fit into the main show," he muses. "The Justin Roiland episode, you're probably not going to see a guy with a speaker for his head in the main show. But I feel John and Sun-Hee could exist around the edges of The Boys – you could have shot that in live-action and it would've worked just fine. That's all up to Eric to decide, though. I know he likes things to cross over, but we'll have to see."
Potential crossovers are likely to be determined by Diabolical's success. Amazon Studios has seen plenty of success with other adult animation offerings, such as Invincible and The Legend of Vox Machina . As the first Prime Video series to debut on Nielsen's streaming ratings lists, The Boys has also proven there's an appetite for R-rated content on the platform.
Diabolical, then, seems perfectly placed to intersect these audiences. But, based on the official trailer's low YouTube views and current lack of social media traction, Diabolical may not be the dead-cert winner that Amazon hopes it'll be. It's possible, though, that Diabolical will steadily grow in popularity as the weeks go on. After all, it launched alongside The Batman , Warner Bros' highly-anticipated superhero movie . Plenty of other films and TV series would similarly struggle against such a cultural juggernaut.
Still, in our view, The Boys Presents: Diabolical is a risky endeavor that pays off. It expands The Boys' world beyond the confines of its main story, and lays the groundwork for the show's other upcoming spin-offs to potentially succeed. Should they do so, Diabolical's pioneering efforts to flesh out The Boys' universe will have been worthwhile.
The Boys Presents: Diabolical is available to stream in its entirety right now on Prime Video.