The 'One More Thing' I want to see at the Apple March Event isn't AR glasses
"There is… one more thing." When the late Apple CEO Steve Jobs used to coolly deliver those words on stage at Apple's launch events, you'd know something special was about to happen.
After Jobs' passing in 2011, Tim Cook took over the hosting duties, and has supplied his fair share of 'One More Thing' moments, including the Apple Watch in 2014, Apple Music in 2015 and iPhone X in 2017.
But since that iPhone X moment five years ago we've been waiting patiently for another industry-defining 'One More Thing' from the Cupertino-based brand. Could the Apple March Event supply the next one? Perhaps – but it's unlikely to be the 'Thing' I really want.
Glasses schmassess
My colleague Lance Ulanoff has already delved into the 'Peek Performance' invite and teaser video to analyze what may be in store for us at the Apple March event, and it's something that's been rumored for a while.
We may be about to get our long-awaited first look at Apple Glasses , a set of augmented reality (AR) specs that could see Apple building significantly on what Google Glass gave us several years ago.
It's a reasonable assumption, as in recent years Apple has gone big with on-stage AR demos, especially involving the iPhone and iPad –  but I continue to struggle to see how or where the technology is going to appeal to the general public, other than as an occasional gimmick (like Snapchat filters), or as a niche tool – for example to measure the depth of snowfall so that you can show off to friends and colleagues overseas.
There are certainly more practical use cases for business and industry, but these don't excite me – and AR as a whole still doesn't excite me at a raw, 'holy cow this is cool', level. So I'm struggling to get excited about the long-rumored Apple Glasses.
What Apple really needs to do is rock an established industry. Turn it on its head, make people sit up and think ' how is that even possible? ' And I believe it can do that in a different space entirely. It's time for Apple to show its hand in the world of electric vehicles (EVs).
Driving it home
Apple never likes to rush into a new technology field; it prefers to watch from the sidelines and see what others are doing in a space, and then sweep in with its own seamlessly slick solution which, more often than not, wins the hearts of millions.
Rumors of an Apple Car have been circulating for almost as long as rumors about Apple Glasses, and an EV from the company has the potential to blow the bloody doors off any previous 'One More Thing' moment.
Tesla has been making EVs for 10 years now, and every major automotive manufacturer in the world is working on electrification, with many aiming to go fully electric with new vehicles within the next 10-15 years. While automotive technology does take longer to develop than mobile phones or PCs, 2022 would be a good time for Apple to stick its iron in the fire.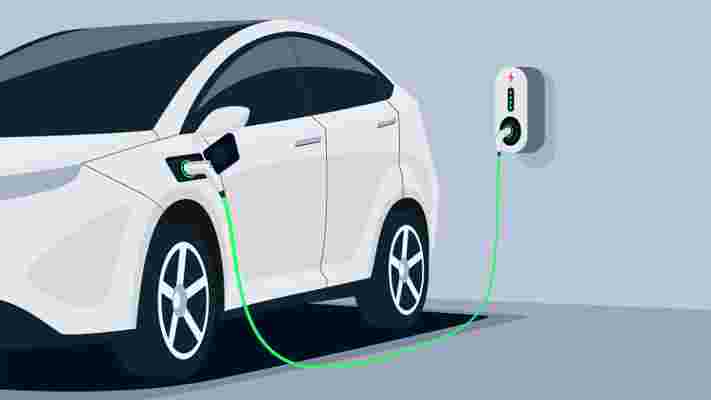 Electric vehicles are presenting automakers with an almost blank slate. They're no longer confined by the conventions dictated by internal combustion engines, and this is enabling them to re-imagine the whole idea of the car, from the design to the increasingly prominent technology.
The latest EVs are coming hyper-connected, with 5G, Wi-Fi 6 and the latest Bluetooth standards ensuring they're always online. They can speak to our homes, to our phones, to other vehicles and, in the near future, will even be able to communicate with the infrastructure around them, such as traffic lights and weather stations.
There's clear overlap between these features and Apple's strengths, and that's before we've even considered infotainment. Both the number of screens in electric cars, and the size of those screens, are growing rapidly, with touch displays, voice assistants and AI determining the best route, roads, drive modes and more for drivers.
There are obvious integration wins in the car for Apple, such as mounts for iPads and iPhones to enable front passenger and rear-seat occupants to enjoy content, while also being able to connect to a Wi-Fi hotspot provided by the vehicle.
Why stop there?
But why stop there? We have iOS, we have watchOS, we have iPadOS and even tvOS – now it's time for Apple to give us carOS. Sound foundations for this have already been laid with Apple Carplay , but there's so much more Apple could bring to the table.
As for what the rumored Apple Car actually looks like, or could offer, that's still anyone's guess. It'll almost certainly be an EV, but there are a number of leaks suggesting that it may also be a fully autonomous vehicle, after Apple purchased an autonomous vehicle startup and hired a 'Radar Test Engineer'.
Meanwhile, various auto-related patents filed by Apple have been spotted, including one that would see a car window alter its opacity, and another suggesting that passengers may be able to wear VR headsets to view the outside world. It's all a little bit bizarre.
The arrival of an Apple Car would be exciting, relevant and timely, and would be the perfect convergence of Apple's superb existing technology with a market that's on the cusp of major transformation.
If the Apple Car is the company's 'One More Thing' this year, it'll be the biggest Thing Apple has announced in years.
Starfield: release date, trailers, exclusivity and everything you need to know
Starfield, the long-awaited new IP from Bethesda Game Studios, is coming to Xbox and PC later this year and it looks set to take us on an epic sci-fi adventure.
Bethesda's first new IP in 25 years, the single-player RPG will take players into the future and outer space allowing them, according to studio boss Todd Howard, to take part in an epic about "hope and humanity" that he's described as being "like Skyrim in space".
Thanks to a growing library of teaser trailers, behind-the-scenes featurettes, and concept art, we're starting to get a real feel for what the game is going to be like visually and what Bethesda is hoping to achieve with it.
With its November 2022 release date, we still have a few months before we'll be playing Starfield but we're hoping we'll learn more about the game soon and perhaps even get some new footage.
The long wait till November hasn't stopped us from boarding the Starfield hype train with a first-class ticket. We've searched the galaxy to bring you the latest news and rumors on Starfield and if you keep reading, you'll find out everything you need to know.
[Update: Could Starfield be too big for its own good? Read more about what a former developer had to say on that below. ]
At E3 2021, Bethesda confirmed Starfield will release on November 11, 2022 – so we still have a good few months to wait. In an interview with the Washington Post , Todd Howard said the studio is "confident in the date".
What's perhaps even more interesting is that it's now looking to be an Xbox / PC exclusive, with the trailer and Xbox spokespeople making no mention of a PS5 release. With Microsoft now owners of developer Bethesda, this could be indicative of the future of titles like The Elder Scrolls 6 and Fallout 5 going forward.
The Sound of Adventure
Bethesda has released an April video diving into Starfield's music and sound design.  In the video, the game's audio director, Mark Lampert, and composer, Inon Zur, discuss music and its importance for the overall gameplay experience.
Zur describes music as the "fourth dimension. It is the emotional dimension" while Lampert says, "the main theme sets the tone for everything else we do." The video is interspersed with more new concept art to give insight into the visual inspirations for the music.
Meet Starfield's first companion: Vasco
Bethesda has introduced Starfield's first companion in a brief new video. Called Vasco, this companion is Constellation's expeditionary robot who has been refurbished by the space exploration organization "to meet the requirements" of its mission.
According to Lead Artist, Istvan Pely, Vasco is a "utilitarian, heavy industrial machine well-suited to the rigors of space travel." Vasco's primary role is, apparently, "peaceful" as, while he does have defensive capabilities, he's especially well-suited to travelling across rough terrain while loaded up with items that are useful for "extended overland journeys." See him for yourself below:
Made for Wanderers
In the second episode of the "Into the Starfield" series, members of the Bethesda development team discuss the ways in which they're hoping to immerse players in a realistic game world. They touch on a range of topics, from NPC and companion interaction, to the game's factions and the choices players will have in relation to them.
The Endless Pursuit
In this behind the scenes video Game Director Todd Howard, Studio Director Angela Browder and Art Director Matt Carofano discuss Bethesda's vision of the future with Starfield.
Howard discusses "step-out moments" in the Fallout games, where a character emerges into a world that's been irrevocably changed by nuclear war, and cryptically says that Starfield will have "two step-out moments". Carofano, meanwhile, reveals that Starfield will have a "realistic science-based backing" and calls it a "more grounded game and grounded setting" than the likes of Skyrim.
The backstory
In October 2021, Bethesda released a video giving an overview of Starfield's overall setting, known as 'The Settled Systems'.
Narrated by Bethesda Game Studios Design Director Emil Pagliarulo, the video explains that Starfield will transport players to the Settled Systems in the year 2330. The Settled Systems are located in "a relatively small pocket of the Milky Way, in an area that extends outward from our Solar System for approximately 50 light-years." It also gives some details on the game's two largest factions, the United Colonies and the Freestar Collective, who were engaged in a "bloody colony war" before the game begins but have developed an unsteady peace.
Location teasers
In August 2021, Bethesda revealed three brief videos which give an overview of cities that will feature in Starfield. The three locations are pretty distinct, comprising the metropolitan capital of the United Colonies, New Atlantis; the freedom-driven capital of the Freestar Collective, Akila; and the vice-drenched pleasure city, Neon.
Each video (all below) gives a description of the locations and a look at some of the concept art, offering a good sense of the overall atmosphere you can expect.
Teaser trailer
The first proper Starfield trailer was revealed at E3 2021, showing off Bethesda's more realistic approach to sci-fi than the likes of Outer Worlds or No Man's Sky:
We're shown a very NASA-like astronaut exploring the rocky surface of a Moon-like location, complete with a blue-sky atmosphere, preparing for take-off. We're shown drones, a cool mech-like buddy robot, and the promise of uncovering the "key to unlocking everything."
Into the Starfield
E3 2021 also brought a more behind-the-scenes style video for Starfield called Into the Starfield. In this clip that's just under 2 minutes, Bethesda gives an overview of Starfield and what it's aiming to achieve with the game.
Announcement teaser
Other than that, we previously saw our first glimpse of the game during E3 2018 where we got little more than a title, a setting and a glimpse of an unnamed planet, a floating satellite or space station, and some sort of... glowing wormhole?
Check out the teaser trailer below:
Too big for its own good?
Starfield is so expansive that a former developer of the game has said much of its content will likely need to be cut if Bethesda is to release it later this year.
Over on the gaming forum Resetera (thanks, GamesRadar ), user Hevy008 responded to several questions about the title and suggested it's so large that Bethesda will have to remove several unfinished features if it wants to ship the game later this year.
"In terms of if it will ship on time, well they will try – that's for sure," said Hevy008. "They'll cut what they [need] to etc. They have an overabundance of content, probably too much, so that's not the issue. Finding the fun and, of course, bug fixing is the big thing.
"Beta is this summer, that's when the picture will truly become clear."
The anonymous poster also described the game as "looking good" and said the "shooting feels alright", but added that "the engine is a piece of crap" and "flying is terrible atm" because it's "not fun".
They did, however, sing the praises of its lighting and graphics, but said they're not yet up to par with Horizon Forbidden West . It's several months before Starfield is expected to release, though, so that could all change.
The original post, along with Hevy008's account, has since been deleted, although a screengrab on Imgur shows their message in full.
The identity of Hevy008 as a former Starfield developer has been confirmed by Bloomberg reporter Jason Schreier in a post on ResetEra . Although Schreier couldn't confirm whether the details of their post, including the claims regarding Starfield's massive size, were true, they did say Hevy008 is "definitely who they said they were".
Covering 'so much' new ground
Starfield's lead designer and writer, Emil Pagliarulo, discussed the development team's progress on the game in a blog post on the official Bethesda site.
The lead designer suggests that the game is coming along well in the interview, saying that while, early on in development, there can be moments where a game is "just kind of a mess", eventually "you get to that point where systems really start to come online, and things start to work well, and gel, and you see everything forming into the vision you had when you first started on this crazy journey."
The Starfield team has, according to Pagliarulo, gotten to that point. "When that first happened with Starfield," he says, "it really was an, 'Oh. Oh wow. Yeah. This is… something really special. Players are going to lose their minds.'" Pagliarulo adds, "It's been so awe-inspiring watching Starfield morph into this amazing game, little by little, and with us covering SO much new ground."
The game is now in full production and much of Pagliarulo's time is now spent playtesting, which feels like a pretty good sign for the game meeting its release date. This playtesting is key, he says, to "experiencing Starfield the way a player would, at every stage of development." According to Pagliarulo, the development team is "brutally honest" with itself "about what is and isn't fun, what does and doesn't work."
Aiming for realism and immersion
In a recent behind-the scenes featurette for Starfield, members of the game's development team touched on ways that they want to make the game a realistic, immersive experience for players. This starts from the higher level of the game's overall RPG mechanics, with Todd Howard touching on "the backgrounds, the traits, defining your character, all those stats."
It also extends to the NPCs and companions with whom the player will interact throughout the game. Lead Artist, Istvan Pely, said that while Bethesda have "always allowed the player to create really interesting, unique characters", this time they've "definitely, severely leveled up. The tech is based on scanning of real world models, similar to the photogrammetry we do in our landscapes. We're kind of applying the same thing to our people as well."
This realism is part of the immersion, with Pely adding, "it's not just the appearance of your player and all that, but we want the personal interactions with all NPCs, other characters in the game, to be as impactful as possible. And for that you have to believe these are real people, you're a real person, and you're interacting with real people."
Aside from how players feel about other characters, Howard said that "Something we really leaned into on this game: how those other characters felt about you."
Pely added, "That's probably my favourite part, like when you're exploring and then your companion makes some comment off the cuff about something that you're checking out or something that just happened. That just feels so perfect for immersion. It's just so believable, you think it's a real person."
Interacting with characters will, however, involve more than them talking at the player; the video touches on a "persuasion minigame". Taking inspiration from the old Oblivion system, this conversation system isn't one where there's "definitely a right thing to say."
There are multiple factions
The Starfield development team has revealed that players will interact with various factions through the game and they'll have the option to join them.
There are four factions mentioned in a recent behind-the-scenes video : the idealized space republic of the United Colonies; the "space western" Freestar Collective; the corporate Ryujin Industries; and the piratical Crimson Fleet. Within these factions, the team is emphasizing player choice, with Design Director Emil Pagliarulo describing an opportunity for espionage in the Crimson Fleet.
"The cool thing about Crimson Fleet is what if you're a good person and you want to be a good player? And you don't want to play as a bad guy?" said Pagliarulo. "You can side with pirates, or you can report back to your superiors and be this space cop type of thing. So it lets you be a good person and still play with the bad guys."
NASA-Punk aesthetic
Bethesda has a particular look in mind when it comes to Starfield and that look is "NASA-Punk".
As described by the game's lead artist, Istvan Pely, in a recent Xbox newswire post , NASA-Punk is a term coined by Starfield's development team "to describe a sci-fi universe that's a little more grounded and relatable". Pely explains the team "wanted a very realistic take," adding, "You can draw a line from current-day space technology and extrapolate from there into the future so it's believable and relatable."
The game's lead animator, Rick Vicens, explains that the term proved to be incredibly useful when creating an aesthetically consistent world. "What's really interesting is how much we all latched onto that concept," Vicens says.
"When you said NASA-Punk, the Art team could instantly take those two words and make them work. It was just the perfect term for our art direction and keeping everyone in the same flow and working with a consistent style. For me, it just clicked. At the start of the project, I think that term was critical for us."
Phil Spencer wants it to be played more than Skyrim
Xbox boss Phil Spencer has said he wants Starfield to be the "most-played" Bethesda game ever. Speaking to Axios Gaming's Stephen Totilo , Spencer emphasised player counts and how services like Xbox Game Pass help with getting games into the hands of more players.
"You can see it with Forza and Halo, the last releases," Spencer said. "Those are the most played games in those franchises because we made them available on more screens than we ever have, through more business models than we've ever made them available".
"I love the Forza 5 and Halo stats...I love how many people played Psychonauts 2 vs. Psychonauts 1.
"So, when I look at the teams, when Todd and I talk about Starfield, it's: 'How do we make sure this is the most-played Todd Howard game ever?'"
"As a platform, I think we have a lot to do with that. Quality of the title is number one, no doubt about that..." Spencer continued. "But that will be success for me for the individual games: Can we really make these games - can we allow them to reach more players than they've ever seen before? And I say that because I believe in the social impact of interactive entertainment."
Some environment concept art
The Starfield Twitter account has been keeping up a steady drip of teases for the game. In December 2021, the account posted two new pieces of concept art which hint at the diversity of settings players will get to experience in the game.
The first piece of art shows a dense jungle setting, with the tweet promising that "During your travels you'll discover many unique environments, some lush and abundant with life."
The second tweet shows a scene far less "abundant with life", instead depicting a deep, dark cave where, apparently, there will be things for players to discover.
Full mod support
Bethesda Game Studios boss Todd Howard confirmed in a recent Reddit AMA that despite Starfield moving to an all new engine from the studio's previous titles, it will offer the same deep mod support as previous titles from the developer.
"Our plan is to have full mod support like our previous games. Our modding community has been with us for 20 years. We love what they do and hope to see more make a career out of it," said Howard.
Full character customization
Starfield players will be able to customize their characters to an in-depth degree in Starfield. In a Reddit AMA , Todd Howard said he was "Really excited about what the team has done with character creation", explaining that it includes "choosing background, skills, etc. You also can pick your pronoun (he, she, they) and we've recorded all the relevant dialogue to support that choice."
More in summer 2022
We're getting interesting Starfield tidbits at the moment but according to Todd Howard in a recent Reddit AMA , we can expect another proper Starfield update in summer 2022. "We prefer to just show it," Howard said, "which should be next summer. We're happy with the advancements we've been able to make, some of which you can see in the trailer shot in-game."
Composer confirmed
Starfield's composer has been confirmed as Inon Zur, the composer behind multiple games in the Fallout series, including 3, 4, 76 and New Vegas, as well as Dragon Age and Prince of Persia.
On his website , Zur explains that he's been on the "epic new musical journey" of creating music for Starfield "for the past several years". Zur also expresses his "admiration and appreciation to the incomparable creative visionary Todd Howard, audio director extraordinaire Mark Lampert, and the entire BGS family",  not only for their "daring artistic ambition" but for "the honor of entrusting me with scoring their next groundbreaking RPG experience."
"Skyrim in space" and "Han Solo simulator"
In an interview with the Washington Post , Todd Howard has described Starfield as being "like Skyrim in space", with the caveat that technological advancements since Skyrim's release will allow Starfield to be a much more robust experience.
Bethesda Managing Director, Ashley Cheng, on the other hand, described the game as "the Han Solo simulator. Get in a ship, explore the galaxy, do fun stuff."
"We struggled at first at finding 'Starfield's' identity," Howard told the Washington Post. "We knew the style of game we wanted. But there's so much science fiction, we didn't have this existing franchise feel. We had to create that from scratch. What do the spaceships look like? What's the tech level? What do people believe? What year is it really set in?"
The game, Howard revealed, is set 300 years in the future when "man is living amongst the stars".
Coming to Xbox One in an unexpected way
Starfield is set to be a big hit for Xbox Series X/S but Xbox One players won't be totally left behind. In a post to the Xbox Wire blog, Microsoft says that it will be using its cloud streaming technology to serve up games that require the Xbox Series X/S's power in order to deliver them to the ageing last-gen Xbox One.
"You'll see many games this holiday, including Forza Horizon 5, which will boast DirectX ray-tracing on both Xbox Series X and S, and Battlefield 2042, which will run at 60fps while supporting 128 players on Xbox Series X/S.
"Some games launching next year from our first party studios and partners, such as Starfield, Redfall, and Stalker 2 require the speed, performance, and technology of Xbox Series X/S.
"We're excited to see developers realise their visions in ways that only next-gen hardware will allow them to do. For the millions of people who play on Xbox One consoles today, we are looking forward to sharing more about how we will bring many of these next-gen games, such as Microsoft Flight Simulator, to your console through Xbox Cloud Gaming, just like we do with mobile devices, tablets, and browsers."
'Better' without PS5?
Bethesda's executive producer Todd Howard has said that the company can create better games now that it's developing exclusively for Xbox and PC.
Speaking to The Telegraph, Howard said: "You don't ever want to leave people out, right? But at the end of the day, your ability to focus and say, this is the game I want to make, these are the platforms I want to make it on, and being able to really lean in on those is going to make for a better product. By focusing on those platforms, you really get to lean in a lot on making it the best it can be for those systems".
Though PS5 players won't have access to Starfield, Howard says Microsoft is working to get its games to more people than ever before.
e're big believers in all of the avenues that Xbox and Microsoft are doing to get games to more people," Howard explained. "Whether that's the integration with the PC, which is huge for us, the cloud streaming and all those things. So I think it's about taking a long-term view. And our belief that those things are really fundamentally good. So we see it actually opening up more and more and more so that people's ability to play our games - via GamePass and other things - their ability to play our games doesn't go down. It goes up dramatically.
"And I can say I'm proud to be part of Xbox. I think it's great for the community of gamers."
Both third person and first person viewpoints are in Starfield Whether you like staring down the barrel of a gun, or at your player character's cool new space threads, Starfield will offer up both first and third person points of view for players to enjoy. "First person for us is still our prime way of playing. So you can see the world and touch all those things," Todd Howard revealed in an interview with the Telegraph .
There will be "hardcore" role playing elements If you've felt that previous Bethesda role playing games have dumbed down the RPG parts of the game in favor of action elements, rest assured that Starfield will not be scrimping on the stats and rolls. The game will have "great character systems" and the ability to choose your background, "things that we used to do in games long ago," says director Todd Howard.
NASA and Elon Musk's Space X offered inspiration Rather than the space opera histrionics of the likes of Star Wars or Star Trek, Bethesda is aiming for a more realistic approach with Starfield. While there will still be lasers and robots and cool things like that, the aesthetic of the game is based on imagining where the space program of today will be in 300 years time. In fact, the team at Bethesda had discussions with Elon Musk's Space X team to make sure it was getting the details right.
Starfield will have alien races and multiple planets to explore It may be a more serious approach to space exploration than the likes of No Man's Sky or Mass Effect, but rest assured – there will be aliens to interact with. In quite what capacity, Bethesda isn't yet revealing. But with the news that the game will also feature Skyrim style cities and settlements across multiple planets, we're hoping that we'll run into a fair few alien habitats, too.
Skipping PS5 Rumors that Starfield could skip the PS5 entirely, sourced by the Xbox Two Podcast , now are seemingly confirmed.
Reported by KitGuru , Xbox Two Podcast host Rand Al Thor 19 stated: "I've been told, by very reliable people, that Starfield was 100% an Xbox exclusive. I've even made bets about it, and I don't bet unless I know I'm willing to bet. So I'm really, really confident that Starfield is only releasing on Xbox when it does."
These rumors turned out to be correct, as Starfield was confirmed to be an Xbox console exclusive during the Xbox & Bethesda E3 2021 presentation. PC players shouldn't worry, though, as Starfield is landing on their platform, too.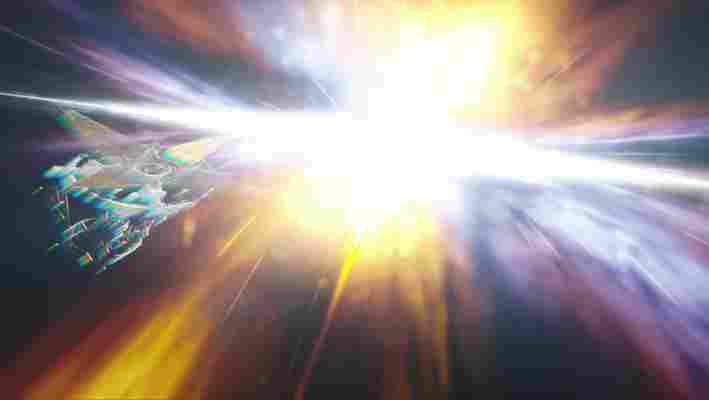 Starfield companion game "unlikely" While the wait for Starfield is undoubtedly a long one, it looks like we won't be getting any ancillary material for the game before its big release late next year.
Talking to the Washington Post, Todd Howard stated that a companion game to Starfield (similar to the Fallout Shelter mobile game) is "unlikely." However, Howard didn't rule out the possibility of a movie or TV show in future.
Starfield's map is going to be big thanks to procedural generation Bethesda's Todd Howard has said that the map in Starfield will be "much larger" than anything seen in previous Bethesda games—yes, even Fallout 76.
Speaking at the Develop: Brighton conference , Howard said that the game will use procedural generation, which is also used in No Man's  Sky, meaning that the game's world will be built by a randomised algorithm as opposed to devs having to manually curate every area. According to Howard, procedural generation will allow the developers to increase the scale of the map overall.
As exciting as all of this sounds, Howard also reiterated during the conference that "It's going to be a while until people hear about it," and that Bethesda won'r show previews until it's a lot closer to launch and they can show off something substantial.
A game engine overhaul Bethesda's Todd Howard has revealed that partnering with Microsoft has "led to our largest engine overhaul since Oblivion, with all new technologies powering our first new IP in 25 years, Starfield, as well as The Elder Scrolls 6."
Speaking at the Develop: Brighton conference , Howard gave more information on the overhauled Creation Engine, saying it's been "a significant overhaul," adding that "It's taken us longer than we would have liked, but it's going to power everything we're doing with Starfield and Elder Scrolls 6. When people see the results, they'll hopefully be as happy as we are with what's on the screen and also how we can go about making our games."
A Starfield 'leak'? There's a chance some 'leaked' images have given us a new look at Starfield. Four images have surfaced on Imgur (via GamesRadar ) which are allegedly from the upcoming game.
The images show a space ship, two instances of a third-person perspective of a character standing beside the ship in astronaut attire (with a stealth and stamina bar in the corner), and a sort of oxygen and carbon dioxide gauge which also appears in the corner of the third-person perspective images.
Of course, there's been no confirmation that these images are actually from Starfield so we can't be sure what we're seeing is from the in-progress game. If they are real, though, which they certainly appear to be given the trailers we've now seen, it looks like Bethesda could be going a little more hard on the sci-fi than in previous space games like Mass Effect.
Starfield is Bethesda's focus In an interview with IGN , Todd Howard revealed that fans will be waiting some time for The Elder Scrolls 6 as Bethesda is focusing on Starfield.
"We're creatives, and it's like, we have to make this game, and this is the time, and so Elder Scrolls 6 is going to have to wait a little bit," Howard said. "And again, Elder Scrolls Online is doing so well, it's so vibrant, that this is the time [for Starfield], both for us creatively, and our audience."
A whole new world Bethesda has reportedly been talking about making Starfield for years now.
There have been rumors flying around about the game since Bethesda publisher Zenimax filed a trademark for the name as far back as 2013.
Given how much mileage Bethesda has achieved out of its other tentpole IPs – Fallout and The Elder Scrolls, which have both seen various spin-off entries and MMO variants – it is presumably hoping to make Starfield a far-reaching franchise in the same vein.
...and whole new systems The idea behind Starfield has been floating around as far back as 2004, and Howard has said it has the recognisable Bethesda DNA to it – so expect deep character customisation and open exploration. But also expect all new ideas entering into the mix – this won't just be Fallout or Skyrim in space. Speaking to Eurogamer, Howard stated "[...] it has a lot of new systems we've been thinking about for a while that fit that kind of game really well." So don't be surprised if there's some sort of on-theme space flight element involved too.
Bigger than ever before Both the Elder Scrolls and Fallout series have shared a similar character progression system and open-world backdrop, partially rooted in their sharing of the same gaming engine.
While we haven't heard specifics on gameplay, Starfield looks set to follow in the same vein, albeit in a more galactic setting. But the final frontier could hold much larger potential for exploration, allowing players to travel across various planets and encounter unknown civilizations.
There's a big gap in the market for sci-fi RPGs With the future of the space-opera RPG series Mass Effect looking uncertain, and the unfulfilled promise of the planet-hopping exploration game No Man's Sky , Starfield will be entering a gaming market hungry for a sci-fi RPG done right. With the proven success of Bethesda's other franchises, could the developer have the next Mass Effect up its sleeves?
(Image credits: Bethesda)
Keep checking back here for all the latest Starfield news
Elden Ring is the anti-Ubisoft game – and it's kicking my ass
I've got a Ubisoft problem. I keep playing its games, even though most of the time they leave me disappointed and unfulfilled.
After getting turned off by Assassin's Creed Unity 's buggy launch and icon-stuffed map, I returned like the useless worm I am when Assassin's Creed Syndicate launched. A few years later, after completing Assassin's Creed Odyssey 's overlong campaign (again filled with an overwhelming map full of icons and unfun side activities because MORE CONTENT = MORE FUN, apparently) I thought I was burned-out and done.
Then I went and got Assassin's Creed Valhalla , whose campaign was somehow even more bloated. After I was finally done with that , I put down my controller and swore NO MORE UBISOFT OPEN GAMES.
No more large maps that somehow feel both too full and too empty. No more cut and paste repeated missions where you have to fetch three objects or fist fight a foe. No more pointless crafting, useless mini-games, or identikit enemy bases that you have to clear out for little reward.
Then, Far Cry 6 came out… and I played that. Yep, I hate myself.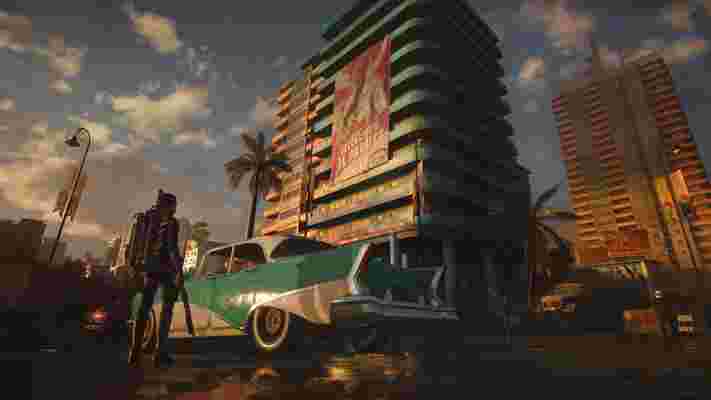 The good news is that after I finished Far Cry 6, which came with all those Ubisoft open-world annoyances, natch, Elden Ring launched to shake me out of my complacency and kick my ass.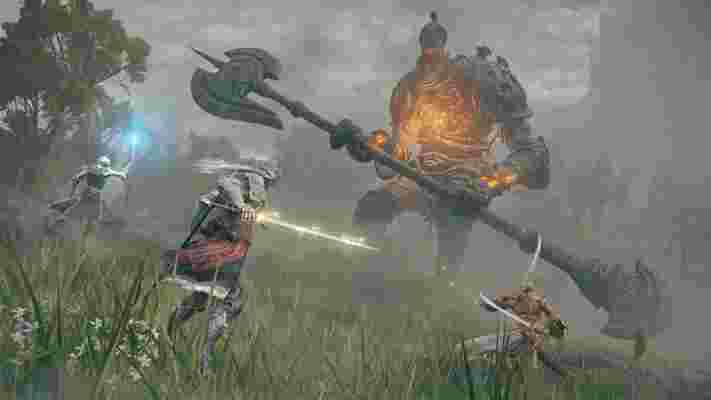 Painful lessons
Elden Ring is the first FromSoftware game I've played, but I knew about their fearful reputation for difficulty. Sure enough, one of the first enemies I walked up to swiftly killed me in two blows.
More deaths swiftly followed, and I soon realized the game was punishing me. Not because it was a bad game, or the developers are evil, but because I was playing it wrong. I was approaching it as a Ubisoft open world, and for that insult, it was killing me. Over and over again. I respected that.
In Assassin's Creed, I'd think nothing of jumping into a group of enemies and taking them down. In Elden Ring, I now know that if I tried that, I'd be deader than a dead thing in no time. Both Assassin's Creed and Far Cry games give you chances to get powerful, over the top, weapons relatively quickly, and taking down enemies becomes trivial. It's fun, but mindless fun, and without any real challenge. The more overpowered you become, the less useful upgrades and leveling up becomes. In Elden Ring, because you feel so vulnerable, every increase in stats feels like a blessing.
Enemy scaling in Ubisoft open worlds is also now a bit broken, if I'm honest. Most of their games now scale enemies to your level, which means baddies aren't ever too much of a challenge, nor are they ever too easy.
In Elden Ring, enemies have a set level, so when you first bump into one and it kills you easily (which is most of the time for me), going away, doing other bits and pieces to earn runes (a form of currency) to level up and get stronger, means you can then return to them later and take them down. This is time-consuming but immensely satisfying.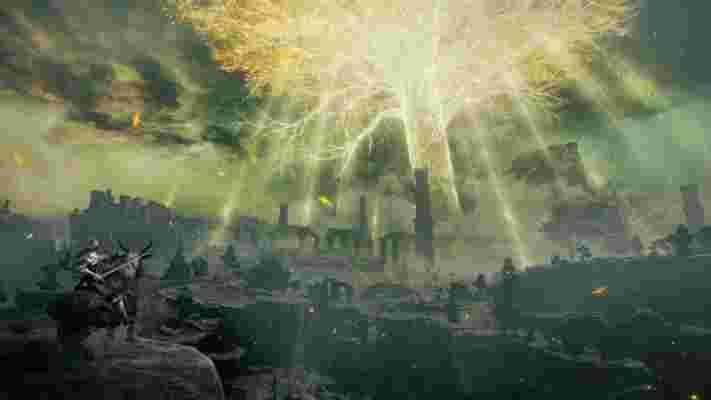 Competent cartography
With Ubisoft's huge maps, I'm also used to being told exactly where to go, with icons dotting the maps and visual elements that show you your objectives during missions. Again, this can take the challenge out of the games, while also preventing organic discoveries.
With Elden Ring, you're pretty much left to your own devices. For someone used to the Ubisoft method, this leaves you baffled and lost. I had no real idea where I had to go, so I picked a direction and set out. I genuinely found myself lost in an alien world, which is certainly the vibe I think FromSoftware was going for.
The way the game handles death is also a breath of fresh air. In Ubisoft games, dying is pretty trivial, and is mainly just an annoyance. If you die during a mission in Assassin's Creed or Far Cry, you just start again at the last checkpoint and try again until you complete it. You don't lose anything, and in some annoying missions, it just means dying and restarting over and over again until you get past another checkpoint. To give Ubisoft some credit, with Watch Dogs: Legion it did mix things up a bit by introducing permadeath for player characters.
Death done right
In Elden Ring, death has consequences. If you die, you're whisked off back to the last Site of Lost Grace visited, slain foes are revived, and any runes you had are dropped.
In a fantastic gameplay twist, that's also in previous FromSoftware titles, you can return to where you died to retrieve your dropped runes. This introduces an element of risk where you weigh up whether to go back for more punishment with the possibility of getting your runes back. If you die before you get to them, they're gone for good.
The lack of map icons, while initially baffling, also means I take greater care traveling through the world, keeping an eye out for secrets and places of interest. In a Ubisoft game, I'd just keep an eye on the mini-map as I traveled to an icon. This meant I missed a lot of the loving detail the game designers put into the world.
Elden Ring isn't perfect, though, and some of its design decisions are baffling to a newbie like me. While I appreciate it doesn't hold my hand like a Ubisoft game and throw a load of tutorials my way, sometimes the lack of instruction can annoy. For example, I had to actually go online to look up how to open the map, as the game never told me. The minimal instructions for upgrading your flasks and weapons also make the first few hours more confusing than they needed to be.
But FromSoftware has done a great job of creating this anti-Ubisoft game that really challenges my expectations and highlights just how formulaic Ubisoft games have become. While I'll still probably end up playing the next Assassin's Creed or Far Cry, I'd really like to see the company switch things up and challenge – and respect – its players, as Elden Ring does.