Pokémon Go Fest 2022 is holding in-person events for the first time since 2019
Pokémon Go Fest 2022 kicks off this June and will see the annual community gathering holding in-person events for the first time since 2019.
According to a post on the Pokémon website, announcing this year's global Pokémon Go event, developer Niantic has scheduled Pokémon Go Fest events from June through August. But while there are a few global events on the cards, there are also three in-person events scheduled: in Berlin, Seattle and Sapporo.
Details on timings and tickets haven't been revealed yet, but we expect Niantic will share more in the coming months. Until then, check out the (loose) schedule below:
This will be the first time Pokémon Go Fest will host in-person events in three years. The last Pokémon Go Fest took place in 2019, before the Covid-19 pandemic, and subsequent events were held remotely, letting you could take part in them from your lovely lockdown abode. At least, they did until now.
But are players ready?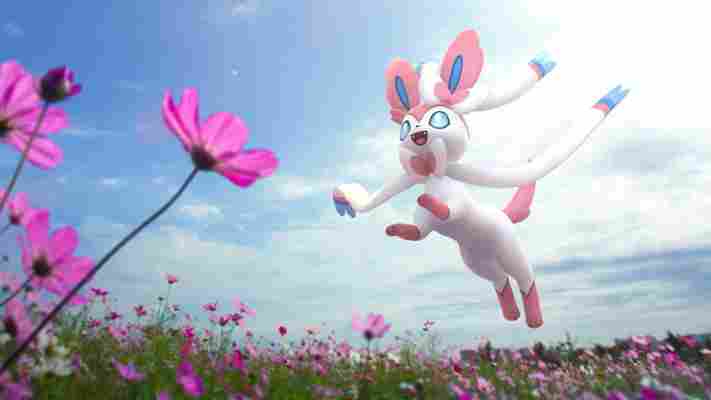 It will be interesting to see what attendance is like for these events, as Niantic has recently faced backlash over forcing players outside with its Community Days and its removal of the Incense stationary bonus . It seems the developer really wants to start pushing us outside again, even if we're not all ready yet.
Fortunately, there will at least be some global events as part of Pokémon Go Fest 2022, which was always the case, as not all trainers are able to globe-trot with ease. However, it's not entirely clear if these events will require you to go outside to take part or if you can continue to do so from your own home.
GoPro plans to dethrone DJI with new modular camera, patents suggest
GoPro could be building a modular, gimbal-stabilized camera system to take on the DJI Pocket 2 and DJI FPV , according to some fascinating new patents.
The patents , which were published on March 10, contain some detailed drawings and descriptions of a system that includes a GoPro Session-style camera module, a mechanically stabilized gimbal, and a connector that allows both to slot into a handheld grip or even a drone.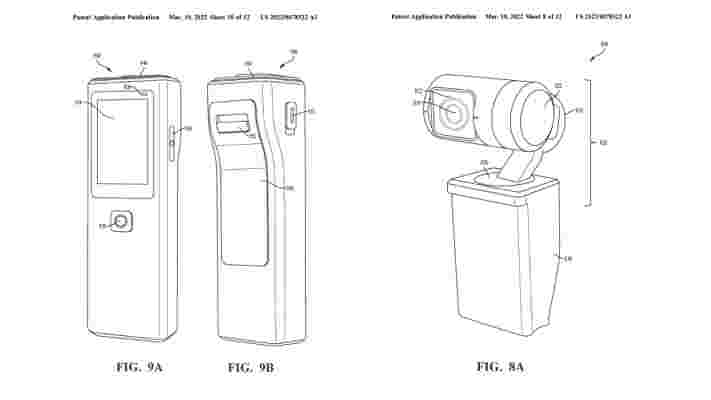 The "image capture module" described by the patents appears to be a new gimbal-stabilized camera, rather than an existing one like the Hero 10 Black. It looks smaller than the latter and could "track a user based on position data from a beacon module and/or based on computer vision tracking of the user in images from the image sensor". This could be the ActiveTrack-style autofocus we've seen on the likes of the DJI Pocket 2, which can turn to follow subjects thanks to its gimbal.
According to the patents, this camera would sit in a three-axis mechanical stabilization system which could allow up to 360-degrees of rotation. The gimbal could also have a handy "fold flat" mode to protect it when you turn it off, which would kick in after 10, 20 or 30 seconds to let you "easily slip the image capture module into a pocket carrying case or backpack".
The really interesting part of the patents, though, and one that chimes with GoPro's recent earnings call comments about plans to make new "types" of action camera, is its modular design. The patents say that the camera and gimbal include a "keyed connector" that is "configured to interchangeably connect the mechanical image stabilization system to an aerial vehicle (e.g a quadcopter drone)" and also a "handheld module".
It's the handheld grip, which would create a DJI Pocket 2-style vlogging camera, that's illustrated in some detail. The patents say that it'd include "a display, a record button, a status indicator light" and two fastening mechanisms, along with a battery release catch (which suggests its batteries will be swappable). The grip is also described as having a "rubbery grip texture" and a shape that's designed for handheld shooting, much like its discontinued GoPro Karma Grip from 2016.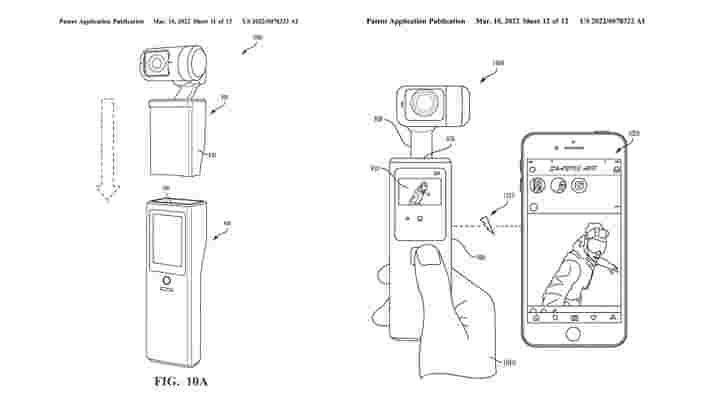 The patents are ambiguous about whether or not this grip's display will be a touchscreen, but say that it might be possible to use it to change the gimbal angle. The description adds that you could also enter "selfie-mode or "HiLight Tag" by voice command and/or input received via the touch interface of the display". Apparently, disconnecting the camera module from this grip "may only take a few seconds for a user to complete".
The main issue with gimbals is that they're usually fragile, which wouldn't really fit GoPro's rugged style. But the patents suggest GoPro's device would be a bit tougher than the DJI Pocket 2, with the gimbal sitting flush with the grip or even hiding its roll motor inside the accessory, giving it a "low profile and protecting the gimbal to reduce risk of damage". GoPro says this setup, which would give it the appearance of a two-axis gimbal, "may provide advantages" over rivals that have "all of their gimbals exposed".
One other advantage GoPro could bring to the vlogging party is the combination of this mechanical image stabilization with its already excellent electronic stabilization. The patents include descriptions of a motion-tracking module and the use of electronic stabilization to further correct rotations of the camera sensor, which could all add up to an incredibly smooth filming experience – if the patents are indeed a sign of what's to come from the action cam giant.
Analysis: A peek at GoPro's 2022 plans?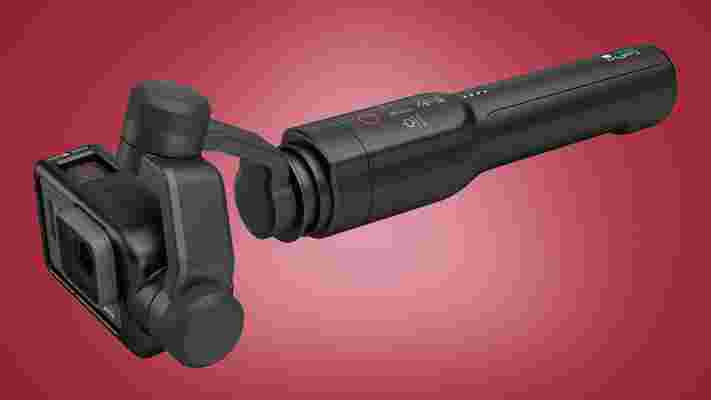 Patents can never be taken as a concrete sign of what a company is working on, as many never see the light of day. But the level of detail in these documents, and the degree to which they chime with GoPro's comments last month about adding two more "distinct camera products" to its lineup "at the end of 2022", suggest there's certainly a good chance that we'll see it make something on these lines.
In some ways, the concept is a reprise of its earlier GoPro Karma drone and GoPro Karma Grip, which ultimately didn't fare very well. But there are also distinct differences, with GoPro this time seemingly content to make a drone camera (rather than a drone itself) and a handheld grip that has mechanical stabilization that could combine nicely with its electronic HyperSmooth tech.
If the patents are fully realized, it'd put GoPro on another collision course with DJI in 2022. DJI already makes the Pocket 2, which we rate as one of the best vlogging cameras , but one of its weaknesses has always been its fragility that means it can't be classed as an action cam. If GoPro can make a modular rival that adds some Hero toughness to the equation, that could be a compelling new option for YouTubers.
A modular system with a new GoPro camera would also make sense, given the existing GoPro Hero 10 Black is for some users, as GoPro CEO Nick Woodman recently described , "more than they need, or not enough of what they need". In that same earnings call, he added that "we think it's important to build very differentiated specialized solutions for different use cases to appeal to entirely new groups of users", and these patents would fit that billing.
While the system would be more niche than its current Hero lineup, it could also create a versatile GoPro range that'd provide a tailored option for most adventure sports scenarios, rather than shoehorning the Hero 10 Black into every use case. We're looking forward to seeing if GoPro does indeed build on the patents or if they are, as is sometimes the case with patents, an elaborate red herring.
The Batman director reveals which 'really cool' scene he left out of the movie
Editor's note: This story originally went live. on Friday, February 26. With The Batman out now in theaters, it's been republished.
Major spoilers for The Batman follow.
The Batman director has revealed he left a "really cool" scene out of the film's final cut – and it involved Barry Keoghan's mystery villain.
Speaking exclusively to TechRadar ahead of The Batman 's release, Matt Reeves opened up on the content he removed in order to shorten the DC movie 's runtime. And, interestingly, Reeves teased that one particular sequence contained more of Keoghan's enigmatic character.
The Dunkirk and Eternals star's role has been the subject of plenty of online speculation, with fans desperate to learn if any of the rumors concerning Keoghan's character are true.
Understandably, Reeves was very selective about the words he used to describe Keoghan's character so as not to spoil the surprise ahead of the Dark Knight's latest cinematic adventure . Reeves did, however, discuss a cut scene from The Batman that was "really cool" to film, before heavily suggesting that it will be released some time after the film's release.
Spoilers for The Batman's final scene follow after the image below. You have been warned.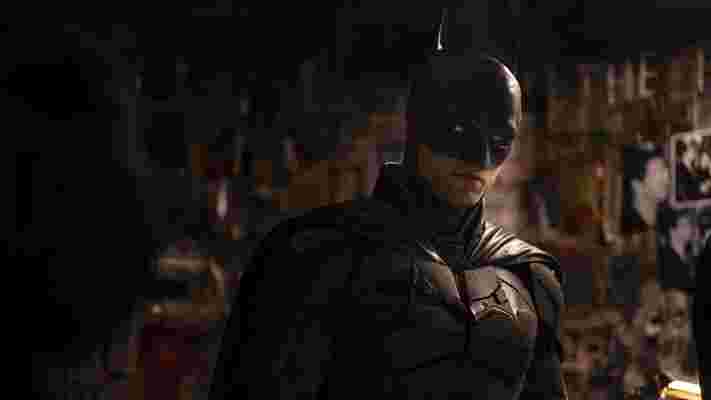 "There were scenes we cut that I liked," Reeves said. "In fact, there's a scene with the unseen prisoner (Keoghan), who appears at the end of the movie in Arkham [Asylum] with the Riddler. There was an earlier scene where Batman went to Arkham to try to profile the Riddler, and Barry is in that scene. It's a very cool scene, and I'm sure we'll we'll release the scene after the movie comes out, because it's a really cool deleted scene."
In other spoiler-filled articles (including chats with IGN , Entertainment Weekly , and CinemaBlend ), Reeves confirmed that Keoghan's character was, in fact, the Joker. So it looks like we'll be seeing the Clown Prince of Crime again very soon.
The Batman's near three-hour runtime makes it one of the longest Batman movies ever, so it's unsurprising to learn that a variety of less important scenes were removed from the final version. In fact, if previous reports are to be believed, Warner Bros. tested a four-hour cut of the film in early test screenings. It's possible, then, that The Batman could have been even longer than it is.
But, as he has said in other interviews, Reeves confirmed that there isn't a director's cut of The Batman, which Warner Bros. has squirreled away for another day.
"There's nothing that I took out of the movie that I wish was in it," Reeves added. "This is the cut of the movie. I mean, there's no, it's not like there's some other [director's cut]. The amazing thing is I got to make the movie that I wanted to make, and that's this movie."
For more content concerning The Batman, read up on why Reeves never intended to make an R-rated Caped Crusader superhero movie . You can also check out our other exclusives on how The Batman honors one particularly iconic horror director , and what excites Colin Farrell the most about The Penguin's forthcoming HBO Max spin-off.
Finally, if you've seen The Batman and need its ending and post-credits scene explained in more detail , we've got you covered.